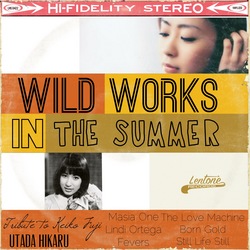 WildWorks
Monday August 26th, 2013 with Lenny Wu
WildWorks In The Summer - Tribute To Fuji Keiko.
The tribute to Japanese singer, Fuji Keiko. For those who don't know, she's the mother to J-POP singer, Utada Hikaru. Keiko tragically died on August 22nd. New music from Masia One, Lindi Ortega, The Love Machine and Fevers. Blog -
http://wildworks.wordpress.com/
Twitter & Instagram - wildworks Facebook -
http://www.facebook.com/WildWorksRadio/
Please continue the support as I have moved to a new day.
Freedom (featuring Sizzla Kalonji)
Masia One - Freedom - Single


Tin Star
Lindi Ortega - Tin Star


Stay Where We Are
The Love Machine - Be Well, It's All Behind Me Now


Look Alive
Fevers - No Room For Light


Go Outside (Menahan Street Band Remix)
Cults - RCRD-LBL.com
Abdomen
Born Gold - mp3 via SoundCloud

Revolving Doors
Still Life Still - Mourning Trance - Arts & Crafts
Make Me A Mirror
Ark Analog - mp3 via SoundCloud


He's My Woman
Louise Burns - The Midnight Mass - Light Organ


Tribute to Keiko Fuji
Shinjuki No Onna
Keiko Fuji - "Enka no Hoshi" Fuji Keiko no Subete
Wait & See ~リスク~
Utada Hikaru - Distance - EMI Japan
微涼
Sandy Lam - Blossom
Crying Sand
Tracy Huang - Let Love Free