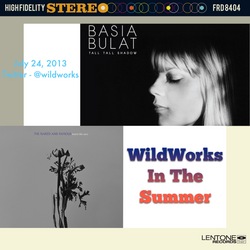 WildWorks
Wednesday July 24th, 2013 with Lenny Wu
WildWorks In The Summer - New Music Edition
A change in the last minute as a guest backed out due to a schedule conflict. New music from Inlet Sound, Basia Bulat, The Darcys and The Naked & Famous on this week's edition. Blog -
http://wildworks.wordpress.com/
Niagara
Ohbijou - Metal Meets - Last Gang Records

New new new music!
Tall Tall Shadow
Basia Bulat - Tall Tall Shadow - Secret City Records


Hearts Like Ours
The Naked & Famous - In Rolling Waves - Universal Republic

The River
The Darcys - Warring - Arts & Crafts


Blizzard Baby
Inlet Sound - Blizzard Baby - Single - Fontana North


In Fire (Sally Shapiro Remix)
Young Galaxy - In Fire - Remix - Paper Bag Records


Playing Wednesday night at various venues.

At Pressed, opening up for Donovan Woods
Ghosts
Motel Raphael - mp3

Playing at Mavericks
Nowhere To Go
Loon Choir - Fire Poems

The Bear
Shred Kelly - In The Hills

F For You (Totally Enormous Extinct Dinosaurs Remix)
Disclosure - via Soundcloud

9 And 10
Imaginary Cities - Fall of Romance - Hidden Pony


Something to add for your Summer roadtrip playlist. It's now a classic.
Road Regrets
Dan Mangan - Nice, Nice, Very Nice - Arts & Crafts