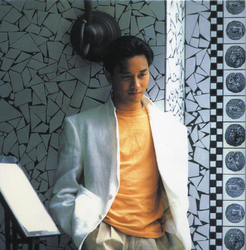 WildWorks
Wednesday March 27th, 2013 with Candice So & Lenny Wu
The Tribute to Leslie Cheung Edition
First Part (coming later as it'll be used for wildworks.wordpress.com as reference).
Second Part - Live on CKCU-FM and readily available via On-Demand. Last week's show was unavailable for On-Demand.
Dressed Up
Octoberman - Waiting In The Well

Jack of Diamonds
The Abramson Singers - Late Riser


Slippery When Wet
The Acorn - No Ghost

This Was Your Town (featuring Casey Mecija)
Chaze - mp3

Victoria Island
Scary Bear Soundtrack - Victoria Island - Single


Belispeak
Purity Ring - Shrines

Leslie Cheung Tribute - Medley Mix #1
Songs played from the mix.
Silence Is Golden (沉默是金)
Leslie Cheung - Hot Summer - 1988
Black Midnight (黑色午夜)
Leslie Cheung - Stand Up - 1986
Break Up (分手)
Leslie Cheung - Stand Up - 1986
Monica
Leslie Cheung - Leslie - 1984
A Man of Intention (有心人)
Leslie Cheung - Red - 1996
Missing You (想你)
Leslie Cheung - Virgin Snow - 1988
Left Right Hand (左右手)
Leslie Cheung - Forever
Chase (追)
Leslie Cheung - 寵愛 - 1995
---
Can't Keep Your Mind Off (Vacationer Remix)
Data Romance - Remix


Speedboat
Grounders - Wreck of a Smile - EP


Leslie Cheung Tribute - Medley Mix #2
Songs played from the mix
Soft and Tender Love (柔情蜜意)
Leslie Cheung - Leslie - 1984
Starting From Zero (由零開始)
Leslie Cheung - 鍾情張國榮 - 1989
Love In Those Years (當年情) [From the movie, A Better Tomorrow]
Leslie Cheung - 張國榮(迷惑我) - 1986
For Your Heart (為你鍾情)
Leslie Cheung - For Your Heart - 1985
Fire of Love (愛火)
Leslie Cheung - 張國榮(迷惑我) - 1986
---
Wind Continues To Blow (Live)
Leslie Cheung - Clip from 1984 Jade Solid Gold
The Other Side of Goodbye (Sayonara no Mukōgawa)
Momoe Yamaguchi - single