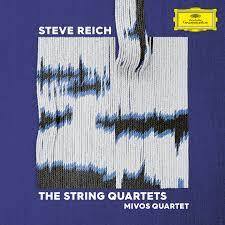 The Wavelength
Monday February 27th, 2023 with Joe Reilly
Hour 1 - some music inspired by seeing the film Women Talking Hour 2 - new releases including a feature of the album by Mivos Quartet
I saw the film Women Talking on Sunday and it really made an impact on me. It is a beautiful yet devastating film and in some ways seems like a metaphor for how cruel, aggressive and masculine our world is and how women can lead us out of this violent morass if only we would permit them to do so. In the first hour of the program, some of the music ties into my thinking about this film - including a piece from the score created by Iceland's amazing Hildur Guðnadóttir. Here is the trailer for Women Talking:
https://www.youtube.com/watch?v=pD0mFhMqDCE
We also spin some music from artists coming to Ottawa, including Bill Frisell who will be here on March 10th and Adrian Sutherland who will be appearing in Ottawa this Saturday, March 4th. For Bill Frisell tickets:
https://ottawajazzfestival.com/tickets/
For Adrian Sutherland tickets:
https://shenkmanarts.ca/en/adrian-sutherland
Then we dig into a new recording from the Mivos Quartet. The album features three different string quartets composed by Steve Reich - one of my favourite contemporary composers. These pieces are played beautifully by Mivos Quartet and fit together brilliantly on this new album. For more information about Mivos Quartet:
https://www.mivosquartet.com
Thanks for listening. Don't forget it's another Bandcamp Friday this Friday. All proceeds from sales on the Bandcamp website will go directly to artists and/or their independent labels.
I'm Payin' Taxes, What Am I Buyin'?
Fred Wesley and the J.B.'s - Damn Right I Am Somebody
At The Mercy of a Man
Betty LaVette - Let Me Down Easy
Four Women
Nina Simone - The Essential Nina Simone
Leaving
Hildur Guðnadóttir - Women Talking - Official Motion Picture Soundtrack

Alone
Beyries - Beyries

The End Is The Beginning
Hammock - Love In The Void

Favourite Patient
Bear's Den - Christmas Hopefully
Shenandoah (for Johnny Smith)
Bill Frisell - Good Dog Happy Man
What Remains
Ocie Elliott - What Remains

Stories
Sarah Neufeld - Detritus

Walk With Me
Adrian Sutherland - When The Magic Hits

Goodnight World
Lisa O'Neill - All Of This Is Chance

Gotham Lullaby
Meredith Monk - Dolmen Music
WTC 9/11 - I. 9/11/01
Mivos Quartet - Steve Reich - The String Quartets

WTC 9/11 - II. 2010
Mivos Quartet - Steve Reich - The String Quartets

Different Trains - I. America Before The War
Mivos Quartet - Steve Reich - The String Quartets

Triple Quartet III
Mivos Quartet - Steve Reich - The String Quartets

20220404
Ryuichi Sakamoto - 12

Fiction
loscil - The Sails p. 1

Aselestine
Yo La Tengo - This Stupid World