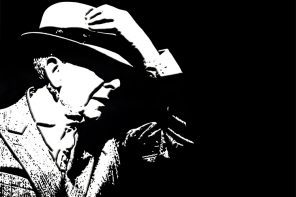 Friday Special Blend
Friday September 22nd, 2017 with Amanda Jetté Knox and Susan Johnston and Bob LeDrew
Leonard Cohen remembered.
Democracy
Leonard Cohen - The Future - Sony

Famous Blue Raincoat
Jennifer Warnes - Famous Blue Raincoat: The Songs of Leonard Cohen
First We Take Manhattan
Leonard Cohen - I'm Your Man

Rachel Eugster and Eleanor Crowder of local theatre company Bear & Co. are two of the team behind "No Way to Say Goodbye", a revue of Leonard songs to take place at The Gladstone opening October 25. The full cast: Pierre Brault, Rachel Eugster, Robin Guy, Scott Richardson. http://www.thegladstone.ca/no-way-to-say-goodbye-songs-of-leonard-cohen/
Who By Fire
Leonard Cohen - The Best of Leonard Cohen

Closing Time
Leonard Cohen - The Future

Local writer David Mayerovitch spent a summer at a camp in the Laurentians with Leonard Cohen as a senior counsellor . He shares a story about Leonard's healthy interest in photography. And women.
Always
Leonard Coehn - The FUture

The Night Comes ON
Leonard Cohen - A Souvenir of the Grand Tour

Pierre Anctil is a professor of History at the University of Ottawa. He talks about the history of Judaism in Montreal and how it shaped Cohen's early -- and later -- life.
Nisha Coleman is a Montreal-based storyteller. Born on a swamp to hippie parents, Nisha Coleman had an unusual upbringing. Her solo storytelling show, Self-Exile, transports the audience through key life events, from trauma to triumph, toddler to young adult, from a swamp in Northern Ontario to the streets of Paris. Self-Exile is performed September 28 at Arts Court. https://www.nishacoleman.com/
Comin' Back To You
Trisha Yearwood - Tower of Song