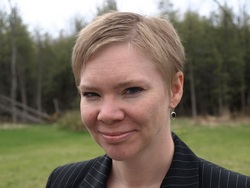 Friday Special Blend
Friday July 24th, 2015 with Susan Johnston and Bob LeDrew
Talking about writing, with Kate Heartfield and Alain Miguelez
Talking about writing. First with Alain Miguelez, an urban planner and author of "A Theatre Near You". He profiles his new book project "Transforming Ottawa", which has a successful crowdfunding campaign that's ending today. Then Kate Heartfield talks about her speculative fiction career, shares some of the music that gets her creative juices flowing, and reads her story "Isabelle the Stupendous."
Yeah Yeah
Lynn Miles - Night in a Strange Town - True North

We're joined by writer and journalist Kate Heartfield to talk about her short fiction and the music that helps her write.
Interview with Alain Miguelez about his upcoming book "Transforming Ottawa." The crowdfunding campaign ends today, but there's still time to donate! https://www.indiegogo.com/projects/transforming-ottawa#/story
When the Angels Played
Calexico - Edge of the Sun - Anti

Anthem for the Already Defeated
Rock Plaza Central - Are We Not Horses - Yep Roc / Outside

I tried to Picture Us
Orienteers - Orienteers - indie