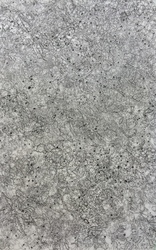 Friday Special Blend
Friday June 26th, 2015 with Susan Johnston and Bob LeDrew
Creative conversation
Creative conversation with visual artist Juanita Lee Garcia, who is currently exhibiting and working at Platform Studios and Gallery on Young Street, and music from upcoming shows at the Dragon Boat Festival and Jazz Festival. This is her drawing "Mapping Landscapes."
Gooey
Glass Animals - Flip
Juanita Lee Garcia is an Ottawa artist currently pursuing graduate studies at Western University. Her current project, "Only Fish Go With The Flow", is at Plaform Studios and Gallery this weekend. She learns patterns from vintage oilcloths by tracing them, then reproduces those patterns on paper, sometimes with graphite, sometimes with colour added by oil sticks. The drawings explore the idea of repetition, memory, and ritual. You can find her at: http://juanitaleegarcia.com/ and Platform at: http://platformgalleryandstudios.tumblr.com/
Lisa Sawyer
Leon Bridges - Coming Home - Columbia

Hang On Little Tomato
Pink Martini - Hang on Little Tomato - Heinz
Pink Martini headline the TD Ottawa Jazz Festival Monday, June 29 at 8:30 pm in Confederation Park.
Qui suis-je
Mélanie Brulée - Débridée


Mélanie Brulée grew up in Cornwall but is now based in Toronto. Her new record Débridée is her first full-length French CD. She will play the Black Sheep Inn in August. http://www.melaniebrulee.com/
Vieux Loup
The Acorn - Vieux Loup


The title track from The Acorn's new CD "Vieux Loup". The Acorn are part of an Ottawa-heavy lineup at the Tim Hortons Dragon Boat Festival. They play Saturday night with Jeremy Fisher, Dan Mangan, and the Rural Alberta Advantage.
Wish
Jill Zmud - as we quietly drive by

Jill Zmud plays a free show at the TD Ottawa Jazz Festival at 1 on Canada Day in Marion Dewar Plaza (in front of City Hall.