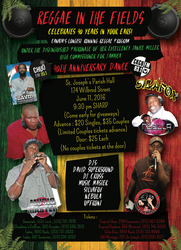 Reggae In The Fields
Saturday May 28th, 2016 with Junior Smith
Recent Singles Part 4 of 4/ Oldies but Goodies
Canada's longest running Reggae radio program, celebrating 40 years in your ears, presents: Saturday, May 21, 2016, 3:00-5:30 pm EST Interview with Syd Perry Oldies but Goodies. LISTEN HERE LIVE:
http://cod.ckcufm.com/programs/132/27295.html
(Program will also be available by 6:00 pm on demand for 700 days at the same link) Celebrating 40 years in your ears in 2016. Join your host Junior Smith. On June 11 CKCU and Reggae in the Fields, Canada's longest running Reggae radio program, invite you to celebrate its 40th anniversary under the Distinguished Patronage of Her Excellency Janice Miller, High Commissioner for Jamaica. Join us for a free admission family picnic at Vincent Massey Park, Heron at Riverside. The sudden death domino tournament which starts at 11:00 am, will crown the "Best Domino Player in Ottawa" with a trophy donated by CanJam Music and a cash prize award. Between 12 noon and 6:00 pm, CKCU and CHUO will carry a double simulcast - live from the park. This radio marathon will be hosted by O'Shea Adagio, Papa Richie, Junior Smith, Mikey Wizdom and a variety of special guests. Join us on the pitch between 2:00 pm and 4:00 pm for a "Soccer Festival" hosted by Rockers United Soccer Club. All children 5-13 years are welcome to participate. Other activities include card games, prizes and surprizes. Limited edition Reggae in the Fields anniversary t-shirts for sale. Caribbean cuisine available. The day's activities conclude with a dance to be held at St Joseph's Parish Hall, 174 Wilbrod Street. Music starts at 9:00 pm SHARP so come early to enjoy a variety of Oldies but Goodies and more recent tunes. David Supersound, DJ Cruss, Music Master, Nebula, SilvaFox and Upfront will keep you entertained throughout the evening. Advance tickets for the dance are $20 for singles with limited advance only $35 couples' tickets. Tickets available at the door for $25. Claudette's Coiffure, L&F Montego, Tropical Heat, Tropical Gardens, Savannah, Ocho Rios and Fades both locations. Be a part of this family picnic and dance to celebrate Reggae in the Fields 40th anniversary on Canadian radio. There will be something for everyone. Contact Junior Smith at reggaeinthefields@gmail.com for more information.
The Good Word
Rev. Jacob Afolabi - Spoken Word
Interview
Syd Perry (Toronto)
Rasta Woman
Syd Perry - Single


Oldies but Goodies DJs
Ready Done
Nitty Gritty - single
Da Plane Land
Nicodemus - single
Call the Police
John Wayne - single
Ring the Alarm
Tenor Saw - single
Tempo
Anthony Red Rose - single
Sweet Reggae Music
Nitty Gritty - single
Clarks Booty
Little John - single
Train to Rhodeshia
Big Youth - single
Cocin in my Brain
Dillinger - single
Go there Natty
U Roy - single
Fool for Love
Prince Jazzbo - single
Boneman Connection
Nicodemus - single
Oldies But Gooders Singers
Love Light Shining
Tony Tuff - single
Have you ever been in Love
Dennis Brown - single
You Don't Care for Me
Cornell Campbell - single
Police and Thieves
Junior Murvin - single
Oldies 1960's
Anniversary 2
Burial
Duke Reid - single
Street Corner
Don Drummond and the Skatalites - single
Strongman Sampson
Eric Monty Morris - single
Thoroughfare
Don Drummond and the Skatalites - single
Carry Go Bring Come
Justine Hinds and the Dominoes - single
Magnificent Ska
Lynn Taitt and the Baba Brooks Band - single
Musical Storeroom
Frank Anderson and the Skattalites - single
We'll Meet
? - single
Words
Owen and Leon Silvera - single
When You are Wrong
The Techniques - single
Lonely Days
Owen Gray - single
Independent Jamaica
? - single
Get Your Feet Moving
Eric Morris - single
Only Suffering
Funny Man and the Boys - single
Meekly Wait
? - single
Maggie Don't leave me
? - single
Rough and Though
Stranger Cole - single
Forward March
Derrick Morgan - single
When I call your name
Stranger and Patsy - single
let's go to the party
? - single
Hurricane Hattie
Jimmy Cliff - single
You Said you loved me
Lloyd Robinson - single
I Care
Derrick Harriott - single
It's Real
The Silvertones - single
Hop
Derrick Morgan - single
Over the River (1964)
Justin Hinds and the Dominoes - single
I'm in the Mood For Love
Lord Tanamo - single
Mad About You
Bruce Ruffin - single
Sing a Little Song
Desmond Dekker and the Aces - single
Crying over You 1976
Heptones - single
Wide awake in a Dream
Barry Biggs - single
Final Word
Hyacinth Mason - Spoken Word