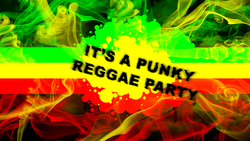 Reggae In The Fields
Saturday November 21st, 2015 with Junior Smith
FD Party Part 2/2
Thank You for your continued financial support of Reggae in the Fields during CKCU's Funding Drive. More names to announce and thank on today's program. Join me for our second post FD thank you party. RITF is Canada's longest running Reggae radio Program. Since 1976. Junior Smith ps.
www.ckcufm.com
for post pledges.
The Good Word
Rev.Jacob Afolabi - Spoken Word
Get Busy
Sean Paul - single
No Letting Go
Wayne Wonder - single
Hold You
Gyptian - single
Turn me on
Kevin Lyttle - single
tempted to Touch
Rupee - single
Cheerleeder
OMI - single
Everyone Falls in Love
Tanto Metro And Devonte - single
Ting a ling
Shabba Ranks - single
Dip and Fall Back
Patra - single
Murder She Wrote
Chaka Demus - single
Who am I
Beenie Man - single
Don Dada
Super Cat - single
Head High
Mr Vegas - single
Traffic Blocking
General Degree - single
Who Dem
Capleton - single
No no no
Dawn Penn - single
Here I come
Barrington Levy - single
Welcome to Jamrock
Damien Marley - single
Come Around
Collie Buddz - single
Murderer
Buju Banton - single
Can't hold us down
Gentleman and Barrington Levy - single
Zung
Yellowman - single
Sister Nancy
Bam Bam - single
see u Smile
Singing Sweet - 2
cococola shape
Simpleton - 3
Wife
Stepper - single
big it up
Buju - single
Mr Big Man
terror Fabulous - single
Butter fly
Tony Curtis and Jigsy King - single
g and g
Jigsy King - single
Sly wah wah
frankie - 13
do you remember
ghost - single
the best for last
lukie d - single
hardcore
lady Saw - 18
wave dem
tanto metro - 20
bury yu dead
Beenie man - single
tattie
Snagga Puss - single
world dance
Beenie - 24
foul affair
Silver Cat - single
Kung Fu
Future trouble - single
foregive me
Ghost - single
look gal
Spragga Benz - single
no argument
Bounty Killer - single
//
Shabba Ranks - single
Bonefide love
Wayne Wonder - 32
Number 2
Terror Fab - single
Big things
Screw - single
Wife
Delly Ranks - single
No
Louie Culture - single
Loving
Buju Banton - 37
Bento uno
Bounty Killer and Pinchers - single
wicked ride
Beenie Man - single
//
Spragga - single
arab slam
rude boy - single
Gangsta
Terro Faboulus - single
gundalero
Mad cobra - single
//
Terry Ganzy - 48
//
Harry Toddler - 50
instrumental
Happy Buzz Riddim - Happy Buzz Riddim
Hard Work
Alkaline - Happy Buzz Riddim
Not Happy with You
Sizzla - Happy Buzz Riddim
Before I fall
Turbulance - Happy Buzz Riddim
Alive
Meera - Happy Buzz Riddim
So High
Mitch - Happy Buzz Riddim
You me Say
Dudsymil - Happy Buzz Riddim
Party
Chase Cross - Happy Buzz Riddim
Shell Down The Bar
Ntune - Happy Buzz Riddim
Taking You Home
Courtney Melody - Happy Buzz Riddim
Nah Lef Mi Gal Dem
Krymis - Happy Buzz Riddim
I'm on my Way
Natural Blacks - Happy Buzz Riddim
instrumental
Frenz List - Frenz List riddim
Tamara
Busy Signal - Frenz List riddim
Kenya
Christopher Martin - Frenz List riddim
Frenz list
Masicka - Frenz List riddim
Jenny Jenny
Navino - Frenz List riddim
Frenz
ReoSoul - Frenz List riddim
Oh My
TOK - Frenz List riddim
Pretty Looks
Bushman and Skara Mucci - Pretty Looks riddim
Dj Legebnd
Michigan - Pretty Looks riddim
Emergency
Lt Stitchie - Pretty Looks riddim
Cant Stay
Mikal - Pretty Looks riddim
Pretty Little Darling
Nico D - Pretty Looks riddim
Reggae
Lukie D - Pretty Looks riddim
The Final Word
Hyacinth Mason - Spoken Word