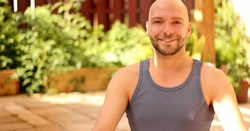 Reggae In The Fields
Saturday November 8th, 2014 with Junior Smith
Funding Drive 3 / Yoga for Your Life
YOGA FOR YOUR LIFE Gregory Kaps Each person's yoga path is unique, beautiful and to be honored. Greg spent many years traveling the world, studying in India and abroad with a wide range of teachers from globally recognized masters to spiritual gurus of different lineages. He has taught over 5,000 public classes, led workshops, trainings and most importantly, kept up a devoted path of self practice, self inquiry and commitment to continue self exploration and growth. Different people attract and are drawn to different energies, which is why having a variety of different styles to choose from gives students the freedom to find the path that best suits them. Greg draws from many different lineages and styles, focusing on the essence of yoga held in each, to bring a traditional, yet modern and adaptive experience to the classroom. Rich in yogic philosophy and discipline, Greg's classes are dynamic, engaging, fun and focused at the same time. His attention on breath and the flow of energy help to draw the student into a deep state of concentration, while maintaining a blissful mind. In this way maximum opening and depth are achieved. As we surrender to the yogic process, the mental fluctuations fade away, leaving in their place a peaceful, expansive and undisturbed mental state. In this receptive space we transcend our ego and merge our individual consciousness with the universal. This is the spiritual experience that all ancient texts speak of, the birthplace of true contentment and is the purpose of yoga. We also get the added benefit of a healthy, emotionally balanced and attractive body. As we learn to identify with this blissful inner space, and become masters our own bodies, minds and emotions, it brings about a profound shift in physiology and consciousness, leading to equanimity in any situation….we are no longer affected by the ups and downs of life. Through yoga, Greg personally overcame physical, mental and emotional traumas and many of the negative emotional patterns which are part of being human. He genuinely encourages others to have faith that the yoga process can truly heal, and bring peace to any and all. Quoting the words of his teacher, Greg says, "Yoga should be sincere, not serious…serious is from the mind, sincere is from the heart. If your heart is in it, then the universe will unfold to fulfill your dreams." He has dedicated his life to helping guide others through the beautiful journey of finding self-realization, happiness and freedom in all aspects of their lives.
Yoga for Your Life
"Self-Improvement through Yoga"
"Self-Improvement through Yoga"
Greg Kaps - Spoken Word