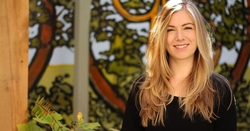 Reggae In The Fields
Saturday October 11th, 2014 with Karen And Elvis Scantlebury
Oldies, Part 2; Yoga for Your Life
YOGA FOR YOUR LIFE Kathryn Flynn Experience clear communication, thoughtful sequencing, and excellent soundtracks in Kathryn's yoga classes. Committed to personalizing your practice and providing hands-on enhancements – she's known for her child's pose backrubs – Kathryn provides a class setting where all levels of student will have a well-rounded practice. She always takes requests at the beginning of class, so if there's something you're yearning to practice – we can make it happen! Kathryn's training, teaching and personal practice incorporate elements of many lineages and theories of yoga. Enthusiastically embracing the mantra that "there's not one way to do triangle!", she approaches each practice, body, and class contextually. Her greatest teachers are ones you may not have heard of, as is the case with most of us. Particular affection and education have come from Mona Warner of Janati Yoga, and Dallas Delahunt of Studio 330. Beyond these primary resources have been Jason Crandell, Susi Hately Aldous, Seane Corn, Sadie Nardini and Paul Grilley, and most importantly, her yogic peers in teaching and learning who provide community and education.
#4 - Reggae Serenade
Laurel Aitken - KRES_OLDIES NO.4
The Good Word
#18 - Swing Low
Charlie Chaplin & Jose Wales - KRES_OLDIES NO .1
#19 - Six and Seven Books Of Moses
The Vikins - KRES_OLDIES NO.19
#18 - Give Me Jesus
Judith Gale - KRES_OLDIES NO.3
#20 - I'm Gonna Put It On
The Wailers - KRES_OLDIES NO.6
#1 - I'll Get You
Dawn Penn - KRES_OLDIES N0.2
#3 - I'm Still Waiting
Delroy Wilson - KRES_OLDIES NO.2
Yoga for Your Life
"Building Strength with Yoga"
"Building Strength with Yoga"
Kathryn Flynn - Spoken Word