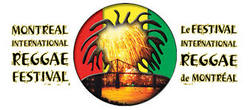 Reggae In The Fields
Saturday August 16th, 2014 with Junior Smith
Tribute to the Montreal International Reggae Festival (MIRF)
French follows: Montreal's festive summer season was augmented in 2004 with the emergence of The Montreal International Reggae Festival – offering three days of "Reggae Rocking" on the Quays of The Old Port. With an aim to not only showcase the pulsating Reggae beat of internationally renown musicians, but also to highlight excellence amongst a diverse set of 'Reggae Ambassadors' from all corners of the world including Canadian based musicians, this festival continues to be held in high esteem. Consistently embracing the theme, "United Against Violence" the Montreal International Reggae Festival has become a significant tradition for Reggae music lovers in and outside of Canada. The festival boasts having an audience of over 150,000 since its inception and is steadfast in its commitment to raising the profile of a musical genre best known for manifestations of powerful messages. Fostering unity is key in dually linguistic Montreal – a city that mirrors a global village; and using artistic forms generated through Reggae to achieve this goal has been the successful platform of this Festival. Derived from a list of musical forms that started with Mento – a type of Jamaican folk music, Reggae music became most popular in the 1970s when it burst onto the international scene through popular songs by artists like Bob Marley and The Wailers. The genre took form following gradual musical transformations from Mento to Ska; to Rock Steady and then Reggae. While originating in Jamaica, a Caribbean island with many cultural influences, Reggae has been adopted and mastered by great musicians in all corners of the world. Reggae music also evolved over the years creating wide variations of what was initially an 'up beat one drop' sound. Today the genre is identified by the titles, Dance Hall, Dub, Lover's Rock and Roots/Conscious Reggae – each strongly interconnected with the other. While celebrating the unique and spirited Reggae beat, the Montreal International Reggae Festival also highlights other genres like Calypso and R&B. Saluting legends in Caribbean music, the Montreal International Reggae Festival has been carefully designed to encompass many angles of the region's musical heritage. The festival's stellar team of industry professionals has set the usual goals to produce a high caliber event that will fulfill the expectations of Reggae fans from all generations and ethnicities. Besides the incredible music, the Montreal International Reggae Festival provides a wonderful ambiance filled with activities for children, kiosks sporting merchandise of all sorts, restaurants and information booths. It entices one and all to return each year for a memorable fun-filled weekend. La saison estivale des festivals à Montréal a connu un grand essor en 2004, avec l'avènement du Festival international reggae de Montréal, proposant trois jours de "roots, rock, reggae" sur les quais du Vieux-Port. Avec le mandat de ne pas que présenter les rythmes des artistes reggae internationaux de renom, mais aussi de mettre en valeur l'excellence des "ambassadeurs reggae" des quatre coins de la planète, incluant les artistes basés au Canada, l'événement s'est développé une réputation des plus enviables auprès de ses festivaliers. Toujours produit sous le thème "Unis contre la violence", Le Festival international reggae de Montréal est rapidement devenu une tradition annuelle pour les amateurs de musique reggae au Canada et à l'étranger. Le festival a dépassé la marque des 150,000 visiteurs depuis son avènement et poursuit son engagement de continuer à mieux faire connaitre ce genre musical qui véhicule souvent d'importants messages sociaux, ainsi que de favoriser l'unité dans un marché bilingue, dans une ville qui représente bien le village global. Le festival est fier d'avoir réussi son pari de mettre de l'avant toutes les disciplines artistiques reliées au reggae pour faire avancer cet engagement: dérivé d'un courant musical qui avait débuté avec le son folklorique du mento, le reggae a explosé sur la scène internationale durant les années 70, popularisé par des artistes tels que Bob Marley & The Wailers. En effet, le genre musical entreprit une transformation du mento au ska, pour ensuite ralentir le tempo pour introduire le style rocksteady, qui fit finalement place à la naissance du reggae. Ayant vu le jour en Jamaïque, une île antillaise aux influences culturelles multiples, le reggae fut rapidement adopté et développé par les meilleurs musiciens à travers le monde. Depuis les années 70, donc, le genre a aussi beaucoup évolué vers d'autres styles que son "one drop" initial; on retrouve maintenant du reggae dans les genres lover's rock, dancehall, dub, roots "engagé". Tout en célébrant fièrement ses racines reggae, le FIRM tient aussi à mettre en vedette des artistes de R&B ou de soca, afin d'exposer la musique populaire dans toute cette région des caraïbes. Pour chacune de ses éditions, une équipe expérimentée et chevronnée, composée de professionnels de l'industrie, met la barre au plus haut, afin de produire un événement de calibre international, pour plaire au delà des attentes des amateurs de reggae, de toutes générations et de toutes provenances. En plus de son volet musical, le FIRM propose chaque année une superbe ambiance, sur un site rempli d'activités pour les enfants, de kiosques offrant toutes sortes de produits culturels, des restaurants et de l'information. D'année en année, les amateurs sont de retour en nombre, pour un weekend des plus mémorables!
The Good Word
Rev. Jacob Afolabi - Spoken Word
Tribute to the Montreal International Reggae Festival (MIRF)
Featuring the artists appearing at the festival, August 16 and 17, 2014 Vieux-Port de Montreal/ The Old Port of Montreal.
Gate opens at 2:00 each day show at 3:00 pm.

Saturday: Kiprich, Kaledo, QQ, Demarco, Alison Hinds, Sean Paul
Sunday: Marcia Griffiths, I-Octane, Sanchez, Luciano
Cash Fi Gold
Kiprich - single
Mi a Check in and She a check in
Kiprich - single
Joe Grind
Kiprich - single
Baby Mama Drama
Kiprich - single
Telephone Ting
Kiprich - single
The Letter
Kiprich - single
Badness a kick
Kaledo - single
Pree money Gyal
Kaledo - single
Endure Evil
Kaledo - single
Tek Dem to School
Kaledo - single
You mi need
Kaledo - single
Good good bring life
Kaledo - single
Same Seed
QQ - single
Same Gun
QQ - single
Everything has changed
QQ - single
Poverty
QQ - single
See you again
QQ - single
We di gyal dem waan
QQ - single
Step to my lue
QQ - single
Boble bobble
QQ feat. Venomus - single
Nuff gal
Demarco - single
Steady wine
Demarco - single
Wine go down low
Demarco - single
The Gal den love me
Demarco - single
Love my life
Demarco - single
Rags Up
Alison Hinds - single
Thubdah
Alison Hinds - single
Sweetest wine
Alison Hinds - single
Soca in mi body
Alison Hinds - single
Dis is Jouvet
Alison Hinds - single
The more you get
Alison Hinds - single
Roll it Gal
Alison Hinds - single
In the Mean time
Alison Hinds - single
wukkin cray
Alison Hinds - single
Bruk out
Sean Paul - single
Daddy's home
Sean Paul - single
Hoy Gyal today
Sean Paul - single
Gimme the light
Sean Paul - single
Private party
Sean Paul - single
Send it on
Sean Paul - single
Watch Dem roll
Sean Paul - single
Wine Baby Wine
Sean Paul - single
Evening ride
Sean Paul - single
Tiger Bone
Sean Paul - single
Ever Blazin'
Sean Paul - single
She doesn't mind
Sean Paul - single
Get busy
Sean Paul - single
Give it up to me
Sean Paul - single
Like Glue
Sean Paul - single
Hold my hand
Sean Paul - single (20 sec cue)
Got 2 Luv U
Sean Paul - single
The Sea of love
Marcia Griffiths - single
All my life
Marcia Griffiths - single
Dreamland
Marcia Griffiths - single (25 sec cue)
I shall sing
Marcia Griffiths - single
Land of Love
Marcia Griffiths - single
Sweet bitter love
Marcia Griffiths - single
The first time ever I saw your face
Marcia Griffiths - single
If you knew
Marcia Griffiths - single
Tide is high
Marcia Griffiths - single
Truly
Marcia Griffiths - single
feel like jumpin'
Marcia Griffiths - single
Mama you alone
I-Octane - single
My life huh easy like 1 2 3
I-Octane - single
no frighten we
I-Octane - single
nuh let den kill me
I-Octane - single
Who wanna see I fall
I-Octane - single
Study Yuh Fiend
I-Octane - single
Real friend
I-Octane - single
No love inna them
I-Octane - single
Walk with jan Jah
I-Octane - single
Nuh ramp wid wi
I-Octane - single
Yuth dem soul
I-Octane - single
Buss a blank
I-Octane - single
Missing you
I-Octane - single
Love you
I-Octane - single
Love di vibes
I-Octane - single
Neve dis the man
Sanchez - single
Fall in Love
Sanchez - single
Banby Can I hold You
Sanchez - single
I believe I can Fly
Sanchez - single
Wherever I lay my head
Sanchez - single
Brown eye girl
Sanchez - single
Sad song
Sanchez - single
I am missing you
Sanchez - single
Lonely won't leave me alone
Sanchez - single
One in a million
Sanchez - single
praise him
Sanchez - single
Amazing Grace
Sanchez - single
knocking on heaven's door
Luciano - single
Good God
Luciano - single
God is my friend
Luciano - single
its me again Jah
Luciano - single
Never give up my pride
Luciano - single
No evil
Luciano - single
Call on Yahweh
Luciano - single
Oh Father
Luciano - single
Lord give me strength
Luciano - single
Sweep over my Soul
Luciano - single
Serve Jah
Luciano - single
Your World and mine
Luciano - single
There is no love in the world
Luciano - single
I remember when
Luciano - single
Empress Love
Luciano - single
The Final Word
Hyacinth Mason - Spoken Word