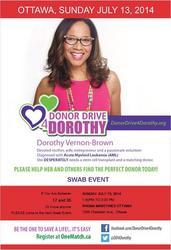 Reggae In The Fields
Saturday June 28th, 2014 with Junior Smith
Oldies but Goodies/Stomp the DJ/Interview with Dorothy Brown/Interview with Jaku Kombit
This Afternoon I will interview Dorothy Brown who is desperately searching for a stem cell donor and Angela Christopher a 6 year leukaemia survivor. They will provide their stories and more information on the Stem cell donation process and what to expect at the swab event. Please and encourage young persons in the 17-35 age group to visit Rhema Ministries Ottawa on July 13th, (1:30-3:30) at 1550 Chatelaine Ave.
The good Word
Rev. Jacob Afolabi - Spoken Word
Interview with Dorothy Brown
Angela Christopher
Diane Watson
Swab event for stem cell donors to help Dorothy.
Interview with
Jaku Konbit
Greatness is Within Me Summer Camp 2014
Oldies but Goodies
By the A B C's
Foot Stool
Al Campbell - single
Nah Give up
Al Campbell - single
Take a ride
Al Campbell - single
Old people say
Al Campbell - single
Breaking up is hard to do
Alton Ellis - single
What does it takes
Alton Ellis - single
You make me so very happy
Alton Ellis - single
Lonely Girl
Barry Biggs - single
I'm in the Mood
Barry Biggs - single
Wide awake in a dream
Barry Biggs - single
Better Days
Carleton and the Shoes - single
Me and you
Carleton and the Shoes - single
Just me
Carleton and the Shoes - single
Love me
Carleton and the Shoes - single
Whisper to me
Cecille Campbell - single
The revenge
Clancy Eccles - single
The Rhythm
Clancy Eccles - single
Stars
Cornell Campbell - single
I am trying
Delroy Wilson - single
War no right
Denise Darlington - single
Do I worry
Derrick Morgan - single
The Conqueror
Derrick Morgan - single
Tougher than tough
Derrick Morgan - single
Stand by me
Derrick Morgan - single
See it in your eyes
Don Campbell - single
Just don't want to be lonely
Freddy McGregor - single
Picture on the wall
Freddy McKay - single
A little love
Jimmy London - single
In loving you
Junior English - single
Travel with love
Justine Hines and the Dominoes - single
When I fall in love
Ken Boothe - single
Artibella
Ken Boothe - single
I don't want to see you cry
Ken Boothe - single
Just another girl
Ken Boothe - single
Puppet on a string
Ken Boothe - single
This is rock steady
Ken Boothe - single
Nanny Goat
Larry and Alvin - single
Dreams to remember
Lloyd Brown - single
Bless me
Lloyd Brown - single
Know yourself
Lloyd Brown - single
Main Squeeze
Lloyd Brown - single
Sharing the night
Lloyd Brown - single
Slow wine
Lloyd Brown - single
Love was all I had
Phyllis Dillon - single
Picture on the wall
Phyllis Dillon - single
Don't let me suffer
Rupie Edwards - single
Rougher than rough
Slim Smith - single
Oh Mr DC
Sugar Monott - single
When will be the end
The Ethiopians - single
Cool it Amigo
The Ethiopians - single
It is hard to confess
The Gaylads - single
No good girl
The Gaylads - single
Fattie fattie
The Heptones - single
Why did you leave
The Heptones - single
Yours until tomorrow
The Minstrels - single
Memories by the score
The Paragons - single
Left with a broken heart
The Paragons - single
Smile
The Silvertones - single
Watch this sound
The Uniques - single
I left my sins
The Wailing Wailers - single
Walk on by
The Zodiacs - single
Night day
Toots and the Maytals - single
Dim the Lights
Winston Reedy - single
The Final Word
Hyacinth Mason - Spoken Word