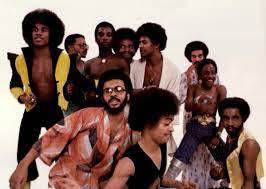 The Groove
Saturday February 18th, 2023 with Elorious Cain
A Black History Month Celebration of SLAVE
We are devastated to hear of the passing of HIP HOP legend DAVID JUDE JOLICOEUR, also known as "TRUGOY THE DOVE" or "PLUG 2" member of DE LA SOUL, on Sunday, February 12th. TREVOR WALKER offered an amazing tribute to him on yesterday's sensational CKCU show FRIDAY DRIVE- [RIP Plug2 "3FeetHigh"+ some favs Tribute] Here is the link to that show:
https://cod.ckcufm.com/programs/120/59485.html
S L A V E ------------------------------ ------------------------------- Formed in Dayton, Ohio during 1975, SLAVE was constructed by the group's original leader, STEVE WASHINGTON, from two local FUNK bands, THE YOUNG MYSTICS and BLACK SATIN SOUL. SLAVE was supposed to be the larger Ohio FUNK supergroup aiming at competing with his brother's highly successful OHIO PLAYERS band. Critics and fans raved about live SLAVE performances with comparisons to PSYCHEDELIC FUNK artists like EDDIE HAZEL, MIDNIGHT MOVERS UNLIMITED, and Canada's CANE AND ABLE. Their studio recordings were cleaner and tighter, more easily programmed in discos. They already began to influence a variety of emerging FUNK artists with their first two albums in 1977: 'Slave' and 'The Hardness Of the World'. STEVE ARRINGTON originally played drums with THE YOUNG MYSTICS. When they broke up, ARRINGTON moved to San Francisco before the remaining members of the group joined SLAVE. He was invited to join the group in 1978, initially as a backing singer but later as lead vocalist on hits like "Just A Touch Of Love" and "Watching You". Politics within the group led to his departure in 1983, following which he formed a new extremely popular group, STEVE ARRINGTON'S HALL OF FAME. On line, Dr. Gary Nelson wrote: "No one sounded like SLAVE before them; no one has sounded like them since. From the instrumentation to the vocals, truly a one-of-a-kind band."
INTRO
SLAVE - THE FUNK STRIKES BACK (CD) - ICHIBAN
PARTY LITES (JOEY NEGRO BOOGIEFIED MIX)
SLAVE - REMIXED WITH LOVE BY JOEY NEGRO (VOL. THREE) (PART ONE) 2LP - Z
SNAP SHOT
SLAVE - 12" - COTILLION
JUST A TOUCH OF LOVE (LONG 11 MINUTE LOVE MIX)
SLAVE - 12" - VAULT RECORDS LTD.
WATCHING YOU (JORU BOMBAY'S BELL DUB EDIT VERSION)
SLAVE - 12"
WATCHING YOU (MIKE MAURRO ENERGY FLOWIN' REMIX)
SLAVE - THE MIKE MAURRO PEAK HOUR REMIXES (3CD) - HARMLESS
ROOTS
SLAVE - JUST A TOUCH OF LOVE (LP) - COTILLION
STEPPING OUT
SLAVE - BAD ENUFF (LP) - COTILLION
SMOKIN'
SLAVE - SHOW TIME (LP) - COTILLION
FRIDAY NITES
SLAVE - VISIONS OF THE LITE (LP) - COTILLION
THE WAY YOU DANCE
SLAVE - 12" - ICHIBAN
STELLAR FUNGK
SLAVE - 12" - ATLANTIC
BABY SINISTER
SLAVE - THE HARDNESS OF THE WORLD (LP) - COTILLION
SLIDE
SLAVE - SLAVE (LP) - COTILLION
SLIDE 88
SLAVE - 12" - ICHIBAN
JUICY-O
SLAVE - 12" - ICHIBAN
STONE JAM
SLAVE - STONE JAM (LP) - COTILLION
THRILL ME
SLAVE - 12" - ICHIBAN
DANCE
SLAVE - BAD ENUFF (LP) - COTILLION
DRAC IS BACK
SLAVE - THE CONCEPT (LP) - COTILLION
JAZZY LADY
SLAVE - 12" - CERTAIN