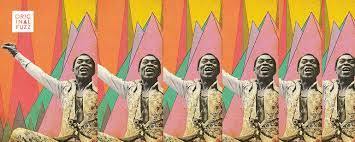 The Groove
Saturday September 3rd, 2022 with Elorious Cain
>>>>>> 'AFRICADELIC' MIXUP
>no FELA KUTI but splenty of acts that were influenced by him or were stuck competing with him. FELA was the giant! He was the dominant force. This show tries to demonstrate his undying influence on a multitude of different genres.<
MANU DIBANGO became so successful that he altered the very nature of Disco.
When JOSEPH "LE GRANDE KALLE" KABASELE welcomed the Cameroonian multi-instrumentalist into the legendary band AFRICAN JAZZ he sensed that this talented and well trained musician would become important. He encouraged MANU DIBANGO's ambitions to experiment with combining Congolese music with Funk and Soul just as almost everybody else was doing the same with Latin and French Caribbean musical styles. MANU DIBANGO opened his own club that was called The TAM TAM. His productions during the 1960's and early 1970's proceeded to change the course of popular music.
MANU DIBANGO has provided a direct connection between the richly musical passions of the Congolese Rumba "belle epoque" and the explosive "disco boom" that dominated the 1970's. The very impact of his experiments in the 1960's and 1970's are still being felt today!
The impact of DIBANGO'S 1972 song "Soul Makossa" is also still being felt around the planet. The fact of the matter is that no other recording has had so much influence on the development of discotheque music. It radically altered the atmosphere of the industry in the early 1970's while it slowly became one of the most popular discotheque standards. As early as 1973 other artists began to record cover versions and by the early 1990's there were countless samples and musical allusions: tributes to a gem that has entered the consciousness of billions! The most popular and notable of which is by the late MICHAEL JACKSON with "Wanna Be Startin' Somethin" from the 'Thriller' album.
We are concentrating on featuring music from two of MANU DIBANGO's other LP's which he released in 1972: AFRICADELIC and AFRICAN VOODOO. The first song is "Soul Fiesta" We are spinning the remix (available only on the DIGGERS FACTORY pressing) by CHATEAU FLIGHT: a collaboration between Parisian producers Nicholas Chaix and Gilbert Cohen.
SOUL FIESTA (CHATEAU FLIGHT REMIX)
MANU DIBANGO - AFRICADELIC (LP) - DIGGERS FACTORY
TIROGO was a Nigerian student PSYCH-ROCK group that successfully dabbled in DISCO. "Dancing Machine" was one of their earlier hits in the discos in Lagos.
Elvy Akhionbare, Funmi Onabolu, Godwin Debogie, Wilfred Ekanem and Wilfred Iwang was the basic group. Yet for some songs on the AIYÉ PEOPLE album like "Disco Maniac" the girl group E-GANG provided backup vocals also.
DANCING MACHINE
TIROGO - AIYÉ PEOPLE (LP) - EMI
One of two United States based AFROBEAT groups we are featuring, the CHICAGO AFROBEAT PROJECT is an ensemble heavily influenced by FELA KUTI and TONY ALLEN. Still based in Chicagoland, the band puts on a wild live show of an incredible variety of music styles. Sometimes they're accompanied by African dancers from Chicago's Muntu Dance Theatre as well as AYODELE DRUM & DANCE: "Diasporic African Drum and Dance from a Feminine Perspective"!
Things got really amazing when the CHICAGO AFROBEAT PROJECT collaborated with TONY ALLEN, for a series of performances and recording sessions at Fullerton Recording Studios with the resulting work featured on the 2017 album WHAT GOES UP. We are spinning two remixes from the amazing 2019 album WHAT GOES UP REMIXED!
CUT THE INFECTION (SOL POWER ALL STARS REMIX)
CHICAGO AFROBEAT PROJECT Featuring TONY ALLEN - WHAT GOES UP REMIXED (LP) - FUTURE ROOTZ
MAKONDE from Kenya is Ali Magobeni, Francis Njoroge, Sammy Kasule, Shaban Onyango and Taso Stephanou. Their song "Soseme Makonde" was programmed in French and Italian discos in 1977.
SOSEME MAKONDE
MAKONDE - 12" - EMI
WILDERNESS
MANU DIBANGO - AFRICAN VOODOO (LP) - HOT CASA
The other United States based AFROBEAT sources we are featuring is the New York City based GROOVE COLLECTIVE. They include Barney McAll, Bill Ware, Fabio Morgera, Genji Siraisi, Gordon Clay, Itaal Shur, Jay Rodriguez, Jonathan Maron and Richard Worth. GROOVE COLLECTIVE are also known for their FUNK-JAZZ and FUTURE JAZZ selections.
SOME PEOPLE
GROOVE COLLECTIVE - DECLASSIFIED VINYL SAMPLER NO.2 (EP) - LIQUID SOUND LOUNGE
Born in Otukpo, Benue State, Nigeria on June 6th 1942, BONGOS IKWUE is a music legend that is still influencing AFROBEAT and other styles in Nigeria. His work with THE GROOVIES; which we are spinning. was recorded years after his beginnings with his earlier bands - THE CUBANA BOYS and the UNIBELLO BROTHERS. His song "Cocks Crow at Dawn" was used as the soundtrack for INALE, a 2010 Nigerian musical drama film produced by Keke Bongos and directed by Jeta Amata. The influence of BONGOS IKWUE continues!
OTACHIKPOKPO
BONGOS IKWUE & THE GROOVIES - NIGERIA AFROBEAT SPECIAL: THE NEW EXPLOSIVE SOUND IN 1970s NIGERIA (3LP) - SOUNDWAY
ON SHAKARA O
THE MARTINS BROTHERS DANCE BAND - NIGERIA AFROBEAT SPECIAL: THE NEW EXPLOSIVE SOUND IN 1970s NIGERIA (3LP) - SOUNDWAY
According to Uchenna Ikone from the liner notes of Soundway Records' THE WORLD ENDS: AFRO ROCK & PSYCHEDELIA IN 1970s NIGERIA (PART 2) collection:
"The long running SEMI COLON has always been less of a cohesive group than a loose consortium of musicians revolving around the excentric persona of colorful band leader Lasbrey Ojukwu (a.k.a. Lasbrey Colon). Respected as a grand-daddy of the Nigerian POP music scene (having earned his stripes as drummer and lead singer in one of the earliest Nigerian beat groups, THE CYCLOPS, and also led the influencial Biafran POP combo THE IN CROWD). Colon's musical impulses have been marked by a push and pull between his roots in POP and ROCK-N-ROLL and his unabashed admiration for the deep afro sound championed by his former colleague at the Nigeria Broadcasting Corporation, FELA KUTI. ....."

We first heard "Isi Agboncha" by THE SEMI COLON in a small REGGAE-AFRICAN record shop near Rideau Street,Ottawa in 1980. We had just bought a SUPER NEGRO BANTOUS record and the teenager server suggested it also. We freaked hearing it for the very first time! Suddenly the much older owner of the store stormed in furious! He was upset at the clerk for 'opening a precious Nigerian import LP' He refused to sell it to us claiming that it had to go to someone who would play it to people. He chuckled at news of 'The Groove" saying:
"Nobody listens to radio anymore. Didn't you hear the song "Video Killed The Radio Star"? People either watch videos at home or play 8-Tracks in their cars."
We didn't have access to "Isi Agboncha" again until it was on Youtube in the 2010. LOUIS DUCHARME made a 12" acetate of it with his record press in Gatineau. For a couple of years, when we would be invited to do so by TREVOR WALKER, we mixed the acetate copy with FELA KUTI and TONY ALLEN records at The Mercury Lounge.
With the three record set THE WORLD ENDS: AFRO ROCK & PSYCHEDELIA IN 1970s NIGERIA (PART 2) there is finally had a clean version on vinyl!
"Isi Agboncha" rides along as a tight burst of energy. It is a bridge between AFROBEAT and more standardized uptempo DISCO. It is also a musical statement of the power of beat fuelled psychedelics!
ISI AGBONCHA
THE SEMI COLON - THE WORLD ENDS: AFRO ROCK & PSYCHEDELIA IN 1970s NIGERIA (PART 2) 3LP - SOUNDWAY
OFEGE is another Nigerian student group that successfully mixed ROCK with AFROBEAT and DISCO. Members include Berkley Jones, Dapo Olumide, Felix Inneh, M-Ike Meme, Melvin Ukachi, Olushoga Benson and Paul Alade.
IN CONCERT
OFEGE - THE LAST OF THE ORIGINS (LP) - EMI
THE PANTHER
MANU DIBANGO - AFRICADELIC (LP) - DIGGERS FACTORY
ICE has also been known as THE LAFAYETTE AFRO ROCK BAND, CRISPY & CO., CAPTAIN DAX, THE MIGHTY DISCO MACHINE, SEVEN AMERICANS IN PARIS, LES ATLANTES, BIONIC UNLIMITED, WALL OF STEEL and SWEET EXORCIST. They were formed originally as THE BOBBY BOYD CONGRESS in Long Island, New York in 1970, named after their original vocalist Bobby Boyd. ICE became a popular FUNK band in Paris, France. EURODISCO producer Pierre Jaubert, owner of IHP Productions hired them to become the house session band at his Parisound studio. Inspired by their experiences in their surroundings in the Barbès district of Paris, ICE began to weave African music into their original FUNK style. At that same time, there was the huge international hit "Soul Makossa" by MANU DIBANGO. So, at the urging of Pierre Jaubert, ICE changed their name to THE LAFAYETTE AFRO ROCK BAND and began recording songs with African sounding names, some of which would not be released until 1974 under the ICE moniker on the album entitled Afro Agban (The Afro Instrumental LP); from which I am spinning "Racubah"
They would release their own cover version of "Soul Makossa": one of many cover versions of it released in various markets in Europe in 1973 and 1974.
The band would release FUNK and DISCO records under that variety of names well into the early 1980's.
RACUBAH
ICE - AFRO AGBAN (THE AFRO-INSTRUMENTAL LP) - MUSIDISC
GERALDO PINO (February 1, 1934 to November 9, 2008) was one of the first artists to become successful while incorporating American funk into the growing West African AFROBEAT scene of the mid to late 1960s. An acknowledged godfather of AFROBEAT, the original Sierra Leone native GERALDO PINO laid the foundation for the West African DISCO and FUNK revolution of the 1970s. Like his friend MANU DIBANGO, GERALDO PINO also manifested a direct connection between the richly musical passions of the Congolese Rumba "belle epoque" and the explosive "disco boom" that dominated the 1970's.
He co-founded the Heartbeats in 1961. The group's repertoire of American pop covers quickly caught on with local listeners, and soon the Heartbeats emerged as one of the highest-paid bands in West Africa, regularly headlining Freetown disco nightclubs like the Flamingo, Palm Beach, and Tiwana. They even had their own television show in 1962. They founded PINO Records label in 1963, issuing a series of singles including "Maria Left for Waka," "Heartbeats Merengue," and "Zamzie." Many dj's in French speaking African countries spinning Congalese Rumba selections were spinning their singles like "Heartbeats Merengue" and "Tom Brown's Gamal (Merengue)", mixing them with AFRICAN JAZZ, PRINCE NICO and FRANCO records of the day. As the group evolved, its music absorbed the growing influence of American soul label MOTOWN Records, although the seminal inspiration on PINO's vocals, songwriting, and public image proved to be JAMES BROWN, whose relentless funk grooves and jaw-dropping showmanship directly shaped PINO's most celebrated efforts.
The HEARTBEATS toured West Africa almost continuously between 1965 and 1967, and the experience vaulted PINO to fame across that end of the continent. The group's live show became the stuff of legend:
"I was playing HIGHLIFE JAZZ when GERALDO PINO came to town in '66 or a bit earlier with soul -- that's what upset everything, man," FELA KUTI reportedly later recalled. "He came to town with James Brown's music, singing 'Hey, hey, I feel all right, ta ta ta ta....' And with such equipment you've never seen, man. This man was tearing Lagos to pieces. After seeing this PINO, I knew I had to get my shit together. And quick!"
Many sources have claimed FELA KUTI moved to U.K. and the United States because he felt he couldn't compete with the stardom of GERALDO PINO.
When THE HEARTBEATS split up in 1969 PINO recruited members of the Ghanaian psychedelic band the PLASTIC JIMS to serve as new HEARTBEATS. That same year PINO also purchased his own television station and hotel in Port Harcourt, Nigeria, and in the years to follow he rarely left Nigeria putting out two amazing albums with THE HEARTBEATS: ' Afro Soco Soul Live' in 1972 which contained intense tribal gems like "Black Woman Experience", and the album 'Let's Have A Party' in 1974 which included the infectious "Heavy Heavy Heavy"!
Startling with commanding introductory spoken words, "Heavy Heavy Heavy" remains popular to this day. "Heavy, Heavy, Heavy" is the introductory theme music for the CKCU-FM show HEAVY FRIENDS which airs every Saturday from 8:00 PM to 10:00 PM - hosted by: BIJON ROY, PINK VEIL, CHRIS IKINOMOPOULOS, JAS NASTY, "HEAVY" BEN ARMSTRONG and LINA ASFOUR-MUI.
We are spinning "African Hustle" originally from GERALDO PINO's solo album 'Boogie Fever' from 1978.
AFRICAN HUSTLE
GERALDO PINO - LAGOS DISCO INFERNO (2LP) - ACADEMYLPS/VOODOOFUNK
BLO was originally a trio consisting of Laolu "Akins" Akintobi playing the drums, Berkely "Ike" Jones on guitar, and Mike "Gbenga" Odumosu on bass. Starting in Lagos, Nigeria in 1972. They would release five amazing albums featuring their mix of Nigerian music with PSYCHEDELIC FUNK, FUNK and DISCO. Thinking about this very popular band of the day, I am reminded of a comment about the West African music scene:
"By the late 1970s, Lagos had a very busy recording industry. Hundred of FUNK and DISCO bands recorded for big companies like EMI, Decca, Polydor and an uncountable number of independent labels. Yet this incredibly vibrant music scene remained ignored by everybody outside of West Africa.."
BLO was one of the few exceptions to that. They had a following in France and England in the mid 1970's. PSYCHEDELIC FUNK collectors from the United States and England in the early 1980's often included BLO's fifth album 'Bulky Backside - Blo Is Back' from 1979 in their collections and mixed sets.
DANCE IN A CIRCLE
BLO - PHASES 1972-1982 (2LP) - AFRO STRUT
ROOT
BLO - LAGOS DISCO INFERNO (2LP) - ACADEMYLPS/VOODOOFUNK
MONEY THAT'S WHAT I WANT
LAWRENCE AMAVI GROUP - THE WORLD ENDS: AFRO ROCK & PSYCHEDELIA IN 1970s NIGERIA (PART 2) 3LP - SOUNDWAY
DJ BLACK LOW hails from Pretoria, South Africa. His 2021 album 'Uwami" is AMAPIANO music. His real name is Sam Austin Radebewith and he recorded it from his home studio in Pretoria. His downright avant-garde AMAPIANO makes for a brilliant and challenging disco. We are spinning two tracks from 'Uwami': "Downfall Revisit" and "9 Days" which features DJ SAXO!
9 DAYS
DJ BLACK LOW featuring DJ SAXO BOY - UWAMI (LP) - AWESOME TAPES FROM AFRICA
MARY AFI USUAH originates from Oron, a small town near Calabar, in the south east of Nigeria. Considered as one of Nigeria's best divas, Mary studied Opera in a prestigious music conservatory in Rome the 1960's. With "Mma ama mbo" which she recorded with THE SOUTH EASTERN STATE CULTURAL CENTRE BAND, her voice transcends. Released by the state in 1975, the original 7" single has now almost completely disappeared!
MMA AMA MBO
MARY AFI USUAH & THE SOUTH EASTERN STATE CULTURAL CENTRE BAND - CALABAR-ITU ROAD: GROOVY SOUNDS FROM SOUTH EASTERN NIGERIA (1972 - 1982) 2LP - COMB & RAZOR SOUND
DOWNFALL REVISIT
DJ BLACK LOW - UWAMI (LP) - AWESOME TAPES FROM AFRICA
THE SOULJAZZ ORCHESTRA has been identified as "one of the most popular AFROBEAT groups in the world!" They include Marielle Rivard, Philippe Lafrenière, Pierre Chrétien, Ray Murray, Steve Patterson, and Zakari Frantz. In their home base here in Ottawa, they have a mass of dedicated fans. One journalist said that they have masses of dedicated fans in Paris, Rome, Berlin and various American markets. They have put out 9 impressive albums. We are spinning "Aduna Jarul Naawo" from their 'Under Burning Skies' album in 2017!
ADUNA JARUL NAAWO
THE SOULJAZZ ORCHESTRA - UNDER BURNING SKIES (LP) - STRUT

SUNDAY SONG (AFROQBANO REMIX)
CHICAGO AFROBEAT PROJECT Featuring TONY ALLEN - WHAT GOES UP REMIXED (LP) - FUTURE ROOTZ
AKAM ITORO ABASI
MANSION - CALABAR-ITU ROAD: GROOVY SOUNDS FROM SOUTH EASTERN NIGERIA (1972 - 1982) 2LP - COMB & RAZOR SOUND
EDDY QUANSAH is a HIGHLIFE musician born and raised in Kumasi, Ghana. In 1970 he relocated to London, England where he worked as a session musician in a variety of ROCK, REGGAE and DISCO productions. He successfully dabbled in DISCO starting with his "Che Che Kule (Funky Highlife)" hit in 1976.
CHE CHE KULE (FUNKY HIGHLIFE)
EDDY QUANSAH - 12" - ISLAND
SUK USAN IDANG (CROSS RIVER RADIO INTERLUDE)
CHARLES DUKE - CALABAR-ITU ROAD: GROOVY SOUNDS FROM SOUTH EASTERN NIGERIA (1972 - 1982) 2LP - COMB & RAZOR SOUND
BOOGIE TRIP
DORIS EBONG - LAGOS DISCO INFERNO (2LP) - ACADEMYLPS/VOODOOFUNK
James "Plunky Nkabinde" Branch has been very much the creative force behind the American African Disco group PLUNKY AND ONENESS OF JUJU. Founded in San Fransisco, Calilfornia in 1971, the group is actually most known for their 1975 hit "African Rhythms".
EVERY WAY BUT LOOSE
PLUNKY AND ONENESS OF JUJU - EVERY WAY BUT LOOSE (LP) - SUTRA
DOING IT IN LAGOS
HOTLINE - YOU ARE MINE (LP) - BLACKSPOT
YOU'VE GOT TO TRY
THEMBA & T-FIRE - NO STOP DIS MUSIK (LP) - COCONUT
EVERYBODY GET DOWN
ASIKO ROCK GROUP - LAGOS DISCO INFERNO (2LP) - ACADEMYLPS/VOODOOFUNK
BOOGIE TRAIN
PARADISE STARS - LAGOS DISCO INFERNO (2LP) - ACADEMYLPS/VOODOOFUNK