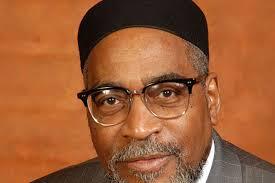 The Groove
Saturday February 22nd, 2020 with ELORIOUS CAIN
BLACK HISTORY CELEBRATION OF THE SOPHISTICATED SOUL MOVEMENT PART 4 - PHILADELPHIA INTERNATIONAL (THE SOUL)
This is the first of two shows about the PHILADELPHIA INTERNATIONAL group of labels. Unlike the 3 previous shows in our celebration of the SOPHISTICATED SOUL movement we are not featuring an artist's picture as in the cases of ISAAC HAYES and BARRY WHITE on those respective playlists. This playlist offers a picture of KENNY GAMBLE. He, together with LEON HUFF, was the producer, song writer, label owner and arranger that created one of the most distinctive and influential sounds in the world. Remarkable artists like BILLY PAUL, HAROLD MELVIN AND THE BLUENOTES, THE THREE DEGREES, TEDDY PENDERGRASS and THE OJAY'S would not have become undeniable music icons on every continent without the musical vision of that amazing duo. GAMBLE AND HUFF were the heart of soul of PHILADELPHIA INTERNATIONAL. It was the most significant and powerful of the three major sources of SOPHISTICATED SOUL. Although we start this show in the GAMBLE RECORDS days in the 1960's, this show is not necessarily chronological. We feature various gems from the GAMBLE RECORDS' super-group THE INTRUDERS including influential songs like "Slow Drag", "When We Get Married" and "(Love Is Like A) Baseball Game". These songs are classic GAMBLE & HUFF productions that inspired a whole generation of refined SOUL artists like THE UNIFICS, THE CHI-LITES, THE STYLISTICS and THE DRAMATICS. We also feature Philadelphia's 1960's 'Soul girl group" THE BABY DOLLS and also some instrumental recordings from THE MUSIC MAKERS and THE BROTHERS OF HOPE. Many discotheque deejays in New York and New Jersey used to mix copies of these instrumentals together to create certain moods in the late 1960's and early 1970's. We only play one song from the T.S.O.P. label: "City Of Brotherly Love" by SOUL SURVIVORS. LEON & HUFF had their first commercial success with SOUL SURVIVORS in 1967 with the Psychedelic Funk song "Expressway To Your Heart" (deliberately not included in this show). We've often played a digital remix of their 1969 hit "Mama Soul". By the time they recorded "City Of Brotherly Love" for T.SO.P. their sound had changed considerably! The rest of material played on this show were on the PHILADELPHIA INTERNATIONAL label. They include unforgettable giants like "Me And Mrs. Jones" by BILLY PAUL, "I Miss You" by HAROLD MELVIN AND THE BLUE NOTES, "When Will I See You Again" by THE THREE DEGREES, and the TEDDY PENDERGRASS romantic scorcher "Turn Off The Lights". We've also mixed them with other greats from THE OJAYS, THE INTRUDERS, THE JONES GIRLS and JEAN CARN. We don't pretend to suggest that this show offers a complete sampling of PHILADELPHIA INTERNATIONAL soul music. We hope that the show will at least stimulate your curiosity so that you check out more of the music!
FRIENDS NO MORE
THE INTRUDERS - COWBOYS TO GIRLS (LP) - GAMBLE
SAD GIRL
THE INTRUDERS - 7" - GAMBLE
SLOW DRAG
THE INTRUDERS - COWBOYS TO GIRLS (LP) - GAMBLE
WHEN WE GET MARRIED
THE INTRUDERS - WHEN WE GET MARRIED (LP) - GAMBLE
SPRING FEVER (PART 1)
THE MUSIC MAKERS featuring BOBBY ROBINSON - 7" - GAMBLE
THERE YOU ARE
THE BABY DOLLS - 7" - GAMBLE
DEVIL WITH AN ANGEL'S SMILE
THE INTRUDERS - 7" - GAMBLE
UNITED (PART 1)
THE MUSIC MAKERS - 7" - GAMBLE
(LOVE IS LIKE A) BASEBALL GAME
THE INTRUDERS - COWBOYS TO GIRLS (LP) - GAMBLE
(PLEASE) DON'T RUSH ME
THE BABY DOLLS - 7" - GAMBLE
BABY I'M LONELY
THE INTRUDERS - THE INTRUDERS ARE TOGETHER (LP) - GAMBLE
I'M GONNA MAKE YOU LOVE ME
THE BROTHERS OF HOPE - 7" - GAMBLE
CITY OF BROTHERLY LOVE
SOUL SURVIVORS - 7" - TSOP
ME AND MRS. JONES
BILLY PAUL - 12" - PETER'S OLDIES TRAX
WHEN LOVE IS NEW
BILLY PAUL - WHEN LOVE IS NEW (LP) - PHILADELPHIA INTERNATIONAL
I MISS YOU
HAROLD MELVIN AND THE BLUE NOTES - I MISS YOU (LP) - PHILADELPHIA INTERNATIONAL
YOU'RE MY LATEST, GREATEST INSPIRATION
TEDDY PENDERGRASS - IT'S TIME FOR LOVE (LP) - PHILADELPHIA INTERNATIONAL
I WANNA KNOW YOUR NAME
THE INTRUDERS - SAVE THE CHILDREN - COLUMBIA
I CLOSE MY EYES
THE JONES GIRLS - AT PEACE WITH WOMEN (LP) - PHILADELPHIA INTERNATIONAL
WE'RE A MELODY
THE JONES GIRLS - THE JONES GIRLS (LP) - PHILADELPHIA INTERNATIONAL
WHEN WILL I SEE YOU AGAIN
THE THREE DEGREES - THE THREE DEGREES (LP) - PHILADELPHIA INTERNATIONAL
YOU GOT THE HOOKS IN ME
THE OJAY'S - SHIP AHOY (LP) - PHILADELPHIA INTERNATIONAL
IT DON'T HURT NOW
TEDDY PENDERGRASS - LIFE IS A SONG WORTH SINGING (LP) - PHILADELPHIA INTERNATIONAL
TURN OFF THE LIGHTS
TEDDY PENDERGRASS - TEDDY (LP) - PHILADELPHIA INTERNATIONAL
BE FOR REAL
HAROLD MELVIN AND THE BLUE NOTES - I MISS YOU (LP) - PHILADELPHIA INTERNATIONAL
LIFE GOES ON
THE JONES GIRLS - THE JONES GIRLS (LP) - PHILADELPHIA INTERNATIONAL
MY LOVE DON'T COME EASY
JEAN CARN - PHILADELPHIA INTERNATIONAL CLASSICS: THE TOM MOULTON REMIXES - SPECIAL VINYL EDITION (8LP BOX) - HARMLESS
DON'T LET IT GO TO YOUR HEAD
JEAN CARN - 7" - PHILADELPHIA INTERNATIONAL