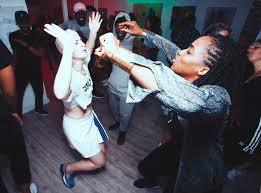 The Groove
Saturday December 7th, 2019 with Elorious Cain
AFROBEAT (VOLUME ONE CONTINUING FOREVERRRRR)
Starting in the late 1960's and still going strong with the phenomenal influence of TONY ALLEN and the late FELA KUTI, AFROBEAT remains one of the more popular genres. Hundreds of groups from a around in the world continue their own unique versions of AFROBEAT like Ottawa's own internationally loved SOULJAZZ ORCHESTRA, the LONDON AFROBEAT COLLECTIVE, the BUFFALO AFROBEAT COLLECTIVE, EKO AFROBEAT, SYSTEMA KALUKUTA, the CHICAGO AFROBEAT PROJECT, BAOKU, FANGA, the KARA-KATA AFROBEAT GROUP, ANTIBALAS, and Spain's ALMA AFROBEAT ENSEMBLE, just to name a few! We have included recordings from Chile's NEWEN AFROBEAT and British sensations KOKOROKO and the EZRA COLLECTIVE. We conclude this show with various remixes and collaborations.
COLONIAL MENTALITY (live at SOFAR, London)
KOKOROKO AFROBEAT COLLECTIVE - .
GO SLOW
FELA RANSOME KUTI & THE AFRICA 70 - MUSIC OF FELA - ROFOROFO FIGHT (2LP) - JOFABRO
UMAN
KOKOROKO - KOKOROKO (EP) - BROWNSWOOD RECORDINGS
QUEST FOR COIN
EZRA COLLECTIVE - YOU CAN'T STEAL MY JOY (2LP) - ENTER THE JUNGLE
ADWA
KOKOROKO - KOKOROKO (EP) - BROWNSWOOD RECORDINGS
SANTIAGO
NEWEN AFROBEAT - NEWEN AFROBEAT (CD) - NEWEN AFROBEAT
SHAKARA
EZRA COLLECTIVE featuring KOKOROKO - YOU CAN'T STEAL MY JOY (2LP) - ENTER THE JUNGLE
ROFOROFO FIGHT
FELA RANSOME KUTI & THE AFRICA 70 - MUSIC OF FELA - ROFOROFO FIGHT (2LP) - JOFABRO
Some remixes and special collaborations:
AFRICAN MAN (RICARDOS VILLALOBOS & MAX LODERBAUER REMIX)
TONY ALLEN - FILM OF LIFE REMIXES (10") - JAZZ VILLAGE
HE NO POSSIBLE (CHRIS DEEPAK REMIX)
FELA RANSOME KUTI & THE AFRICA 70 - 'FELAMIX'D' (CD) - RT
UNKNOWN SOLDIER (OBY NINE REMIX)
FELA RANSOME KUTI & THE AFRICA 70 - 'FELAMIX'D' (CD) - RT
WHAT WILL TOMORROW BRING (PARIS CITY MIX)
FEMI KUTI - 12" - SOUND OF BARCLAY
SHUFFERING AND SHMILING (BEATSY COLLINS RE-EDIT)
FELA ANIKULAPO KUTI AND THE AFRIKA 70 - 10" - BB
KILODE (CARL CRAIG STRAIGHT REMIX)
TONY ALLEN - 12" - HONEST JONS
2ND CHANCE
CERRONE (featuring TONY ALLEN) - AFRO (10") - BECAUSE MUSIC
GO BACK (FORT ROMEAU ABSOLUT REMIX)
TONY ALLEN featuring DAMON ALBARN - FILM OF LIFE REMIXES (10") - JAZZ VILLAGE