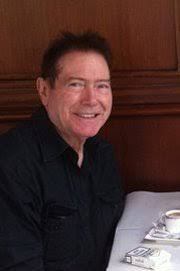 The Groove
Saturday October 19th, 2019 with Elorious Cain
DON RAY (September 9, 1942 - March 7, 2019)
DON RAY was a dominant figure in French EURODISCO, both as a solo artist with massive hits like "Got To Having Loving", and also as a composer, musical arranger, studio musician and producer in dozens of extremely influential recordings. His legal name was RAYMOND DONNEZ and he started composing and arranging in the early 1960's. He recorded variations of ROCK along with lush pop tunes before getting involved with EURODISCO in the 1970's. He was the other half of the groups SPHINX and SUMERIA with the legendary ALEC R. CONSTANDINOS. Some of his musical directions and arrangements of tremendous significance in EURODISCO include "Crystal World" and "You're All I Ever Dreamed Of" by CRYSTAL GLASS and "Esmeralda" by QUASIMODO in 1974, "Cumba Cumba" by THE MONSTARS and "Love In C Minor" by CERRONE in 1976; "Supernature" by CERRONE, "Don't Let Me Be Misunderstood" and the "Esmeralda Suite" by SANTA ESMERALDA, "Judas" by SPHINX, "Angela Angel" by CHRISLAND, "Accidental Lover" by LOVE AND KISSES and "Africanism" by KONGAS in 1977; and "Look For Love" by CERRONE in 1978. All that said and there still is a wealth of other incredible EURODISCO recordings he did with both CERRONE and ALEC R. CONSTANDINOS. His musical imprint on the sound of various genres of DISCO is still manifesting itself; even after his death. We offer some of his recordings and productions along with many of his notable works of musical arrangement today.
We begin with DIMITRI (formerly of APHRODITE'S CHILD) with slow DON RAY orchestrated called "Precious Love" in 1973:
PRECIOUS LOVE
DIMITRI - 7" - MERCURY
ESMERALDA
QUASIMODO - 7" - CASTEL
CUMBA CUMBA
THE MONSTARS - CUMBA CUMBA (LP) - AAVALANCHE
CRYSTAL WORLD
CRYSTAL GLASS - CRYSTAL WORLD (LP) - POLYDOR
I'VE FOUND LOVE (NOW THAT I'VE FOUND YOU)
LOVE AND KISSES - LOVE AND KISSES (LP) - BARCLAY
SIMON PETER
SPHINX - JUDAS (LP) - POLYDOR/RAAL
ANGELA, ANGEL
CHRISLAND - ANGELA, ANGEL (LP) - BACCARA INTERNATIONAL
ROMEO & JULIET ACTS I & II
ALEC R. COSTANDINOS & THE SYNCOPHONIC ORCHESTRA - ROMEO & JULIET (LP) - RCA VICTOR
ROMEO & JULIET ACTS III, IV & V
ALEC R. COSTANDINOS & THE SYNCOPHONIC ORCHESTRA - ROMEO & JULIET (LP) - RCA VICTOR
SUPERNATURE
CERRONE - CERRONE III - SUPERNATURE (LP) - COTILLION
GOT TO HAVE LOVING
DON RAY - GARDEN OF LOVE (LP) - MALLIGATOR
YOU ARE THE ONE
CERRONE - CERRONE VII - YOU ARE THE ONE (LP) - MALLIGATOR
DON'T LET ME BE MISUNDERSTOOD
SANTA ESMERALDA starring LEROY GOMEZ - DON'T LET ME BE MISUNDERSTOOD (LP) - PHILIPS
ESMERALDA SUITE
SANTA ESMERALDA starring LEROY GOMEZ - DON'T LET ME BE MISUNDERSTOOD (LP) - PHILPS
DIEU FUMEUR DE HAVANES
CATHERINE DENEUVE En Duo Avec SERGE GAINSBOURG - 7" - PHILIPS
TIME FOR TEA
TURBULENT BLUE - 12" - BARCLAY
QUELQUES MOTS GENTILS
CAROL RAY BAND - JOHN LEE HOOKER + J.L.H. 83 (LP) - SUN MELODY