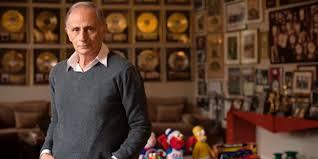 The Groove
Saturday August 10th, 2019 with Elorious Cain
HENRI BELOLO (November 27, 1936 - August 3, 2019)
In the early 1960's, HENRI BELOLO was a young DJ in Casablanca discos like L'Abreuvoir, and the Zoom Zoom who was transfixed by African drums, frustrated with the primitive mixing technology of the day and gaining his own unique reputation for combining records from America and France with African imports. Little did the appreciative patrons of those clubs then know that this young guy would become one of the most influential figures in the history of DISCO. Some of the songs he wrote with JACQUES MORALI would become part of the personal soundtracks of billions. Many of those songs are featured on this show today. He had a major hand in the writing and creation of all of the recordings on this show. Most often he is known for the co-creating groups like THE RITCHIE FAMILY and VILLAGE PEOPLE. Although wildly popular; even today, those groups were just the tip of an ice burg! We are offering a small sample of his productions, compositions and collaborations from 1969 to 1992.
1969
AFRO-BLACK
RANDY WESTON'S AFRICAN RHYTHMS ‎ - AFRICAN COOKBOOK (LP) - POLYDOR
1970
DARLA DIRLADADA
LES DIRLADA - 7" - POLYDOR
1975
FRENESI
THE RITCHIE FAMILY - BRAZIL (LP) - 20TH CENTURY
BRAZIL
THE RITCHIE FAMILY - BRAZIL (LP) - 20TH CENTURY
RAIN
BLANCHE CARTER - 7" - RCA
LADY CHAMPAGNE
THE RITCHIE FAMILY - BRAZIL (LP) - 20TH CENTURY
1976
THE BEST DISCO IN TOWN
THE RITCHIE FAMILY - ARABIAN NIGHTS (LP) - ABLE
1977
SAN FRANSISCO (YOU'VE GOT ME)
VILLAGE PEOPLE - VILLAGE PEOPLE (LP) - CASABLANCA
IN HOLLYWOOD (EVERYBODY IS A STAR)
VILLAGE PEOPLE - VILLAGE PEOPLE (LP) - CASABLANCA
MACHO MAN
VILLAGE PEOPLE - MACHO MAN (LP) - CASABLANCA
1978
Y.M.C.A.
VILLAGE PEOPLE - CRUISIN' (LP) - CASABLANCA
TWO LOVES HAVE I (J'AI DEUX AMOURS)
PHYLICIA ALLEN - JOSEPHINE SUPERSTAR (LP) - DURIUM
JOSEPHINE SUPERSTAR
PHYLICIA ALLEN - JOSEPHINE SUPERSTAR (LP) - DURIUM
I LOVE AMERICA
PATRICK JUVET - 12" - CASABLANCA
AMERICAN GENERATION
THE RITCHIE FAMILY - AMERICAN GENERATION (LP) - ABLE
1979
IN THE NAVY
VILLAGE PEOPLE - GO WEST (LP) - CASABLANCA
LIKE AN EAGLE
DENNIS PARKER - LIKE AN EAGLE (LP) - ABLE
1983
WHERE IS MY MAN
EARTHA KITT - 12" - STREETWISE
I CAN'T LIVE WITHOUT YOU
SEAN TAYLOR - 12" - BARCLAY
PARTY (VOCAL)
JULIUS BROWN - 12" - WEST END
STREET DANCE
BREAK MACHINE - 12" - ERO
1984
STAY WITH ME (LONG VERSION)
INDIA - 12" - WEST END
1985
BYE BYE BABY GOODBYE
DAVID DEAN - 12" - BLACK SCORPIO
1990
CLASSIC O'RAP
FLAGRANT DESIR - 12" - TOUCH OF GOLD
1992
TECHNO IS NOT DEAD (GAGARINE MIX)
SYSTEM B. - 12" - TOUCH OF GOLD