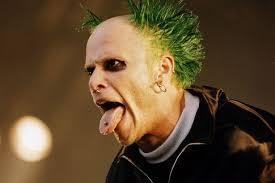 The Groove
Saturday March 9th, 2019 with Elorious Cain & Teknobrat
KEITH FLINT (September 17, 1969, - March 4, 2019)
Sorrow at the sudden departure of KEITH FLINT - The legendary lead vocalist of the extremely influential British super-group THE PRODIGY! The voice and brazen persona of KEITH has left an eternal impact on the development of disco. We are excited to feature a special PRODIGY megamix prepared in suburban Strasbourg, France by DJ TEKNOBRAT!
FIRESTARTER
THE PRODIGY - THE FAT OF THE LAND (2LP) - XL RECORDINGS
FIRESTARTER (INSTRUMENTAL)
THE PRODIGY - FIRESTARTER (CD) - KOCH INTERNATIONAL POLAND
Special mix of THE PRODIGY prepared by DJ Teknobrat in suburban Strasbourg, France
WE LIVE FOREVER
THE PRODIGY - NO TOURISTS (2LP) - TAKE ME TO THE HOSPITAL
CRAZY MAN
THE PRODIGY - EVERYBODY IN THE PLACE (EP) - XL RECORDINGS
GIVE ME A SIGNAL
THE PRODIGY featuring BARNES COURTNEY - NO TOURISTS (2LP) - TAKE ME TO THE HOSPITAL
BEYOND THE DEATHRAY
THE PRODIGY - THE DAY IS MY ENEMY (3LPBOXSET) - TAKE ME TO THE HOSPITAL
OMEN
THE PRODIGY - INVADERS MUST DIE (2LP) - TAKE ME TO THE HOSPITAL
INVISIBLE SUN
THE PRODIGY - THE DAY IS MY ENEMY (3LPBOXSET) - TAKE ME TO THE HOSPITAL
SHOOT DOWN
THE PRODIGY ( featuring LIAM GALLAGHER) - ALWAYS OUTNUMBERED, NEVER OUTGUNNED (3LP) - XL RECORDINGS
WILD FRONTIER
THE PRODIGY - THE DAY IS MY ENEMY (3LPBOXSET) - TAKE ME TO THE HOSPITAL
INVADERS MUST DIE
THE PRODIGY - INVADERS MUST DIE (2LP) - TAKE ME TO THE HOSPITAL
FIRST WARNING
THE PRODIGY - SMOKIN' ACES (ORIGINAL FILM SOUNDTRACK) CD - POLYDOR
TAKE ME TO THE HOSPITAL
THE PRODIGY - 12" - TAKE ME TO THE HOSPITAL
BREATHE
THE PRODIGY - 12" - DEL
MESCALINE
THE PRODIGY - INVADERS MUST DIE EP (CD) - TAKE ME TO THE HOSPITAL
FIRESTARTER
THE PRODIGY - 12" - XL RECORDINGS