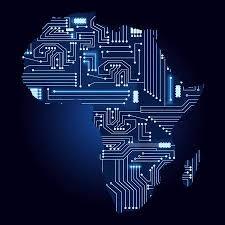 The Groove
Saturday December 1st, 2018 with Elorious Cain
Africa Electronic
The vast majority of the artists presented on this show are from a new generation of African artists that make their music with electronic instruments. The digital world has profoundly impacted urban centres throughout the African continent. Many compositions featured today are only available digitally. Very few records come out of Africa today. There is actually more African music being released on vinyl in Europe or North America than in Africa! The impact of electronics can be heard on most the featured recordings. This is not the same atmosphere of the days when artists like Woya and Mory Kante were heavily criticized for using electronic instruments. There is Afrobeat that sounds nothing like classic material from Fela Kuti or Tony Allen. FATOUMATA DIAWARA (born 1982 in Ivory Coast) is a Malian singer and songwriter currently recording in France. FALZ, MR. EAZI, MAYORKUN, TEKNO, MR. REAL OBADICE IDOWEST, WENDY SHAW, CUPPY , DJ FLEX and REEKADO BANKS are just some of the current Nigerian artists we are featuring. There are some House Music artists featured from South Africa like the JIKA BOYZ, BLUE & K-WHITE, and BREWED SOUL. There are three exceptions on the show: The french singer JAIN is featured. She grew up in parts of Africa and the music has not left her sound. CERRONE appears with a fresh new variation of MANU DIBANGO's "Soul Makossa". Both of these legends have profoundly influenced different generations of artists and djs. CERRONE actually started as the drummer for the Afrorock group KONGAS. There is also the Brooklyn based ALSARAH & THE NUBATONES. Enjoy!
NTERINI
FATOUMATA DIAWARA - FENFO - SOMETHING TO SAY - MONTUNO PRODUCCIONES Y EVENTOS, S.L.

DJADJA
AJA NAKAMURA - mp3
DJADJA (LACONI x TRAVICE REMIX)
AJA NAKAMURA - mp3
SWEET BOY
FALZ - mp3 - BAHDGUYS ENTERTAINMENT LIMITED

DABEBI (featuring KING PROMISE & MALEEK BERRY)
MR. EAZI - LIFE IS EAZI, Vol. 2 - LAGOS TO LONDON - UNIVERSAL MUSIC

BOBO
MAYORKUN featuring DAVIDO - BOBO
ON MY WAY
JAIN - SOULDIER (2LP) - SPOOKLAND

SHAKU SHAKU
MAYORKUN featuring TEAM SALUT - SHAKU SHAKU - AFROWAVE DIGITAL

HOPE
JAIN - ZANAKA (2LP) - SONY MUSIC
YUR LUV
TEKNO - YUR LUV - MADE MEN MUSIC GROUP
OPEN & CLOSE (featuring DIPLO)
MR. EAZI - LIFE IS EAZI, Vol. 2 - LAGOS TO LONDON - UNIVERSAL MUSIC

OH MAN
JAIN - SOULDIER (2LP) - SPOOKLAND

ALANE
WES - 12" - COLUMBIA
THE BOY IS MINE
WENDY SHAY - mp3 - RUFFTOWN
BE
TEKNO - BE - KUDOS
LEGBEGBE
MR. REAL OBADICE IDOWEST - mp3
SHE DON'T TEXT / J'SUIS DANS I'TIEKS
DJ FLEX - mp3
WERK FT SKUKI
CUPPY - mp3 - CUPPYMUSIC
EBEANO
MR. P - EBEANO (INTERNATIONALLY) - EMPIRE
ISSOKAY
YEMI ALADE - ISSOKAY - EFFYZZIE MUSIC GROUP

FUNK MAKOSSA (MAWIMBI REMIX)
CERRONE (featuring MANU DIBANGO) - mp3 - MALIGATOR
MAKEBA
JAIN - ZANAKA (2LP) - SONY MUSIC
BIKO
IYANYA - mp3 - TMPL
PULL UP
REEKADO BANKS - mp3 - MAVIN
HEAVEN'S GATE (featuring LILLY ALLEN)
BURNA BOY - OUTSIDE - BAD HABIT/ON A SPACESHIP/ATLANTIC

TAKE IT BACK (UTHANDONYANA LAKHO)
DJ STYLE featuring UNLEASED SIBLINGZ - mp3
MELINDA
JIKA BOYZ - mp3
DRINKS AND MUSIC (CUEBUR REMIX)
TELLAMAN featuring OKMALUMKOOLKAT - mp3
GROW ME
BREWED SOUL - HOUSE AFRIKA SESSIONS 5 (4CD) - HOUSE AFRIKA
NOW THAT I HAVE YOU (ORAL DEEP REMIX)
BLUE & K-WHITE - mp3 - SKALLA
FULANI (PABLO FIERRO REMIX)
ALSARAH & THE NUBATONES - 12" - WONDERWHEEL
ULITHEMBA lAM
DJ PHAT CAT featuring NTHABISENG - HOUSE AFRIKA SESSIONS 8 (5CD) - HOUSE AFRIKA
ISSA GOAL
NAIRA MARLEY featuring OLAMIDE & LIL KESH - mp3 - CASH ELLZ ENTZ
AGOLO
ANGELIQUE KIDJO - 12" - MANGO