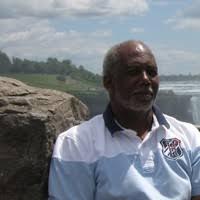 The Groove
Saturday October 6th, 2018 with Elorious Cain
Celebrating the 35th Anniversary of Ottawa's legendary CLUB 747!
Celebrating CLUB 747 is really celebrating the vision, concrete efforts and long term dedication of CKCU FM alumnae LEN PUCKERIN (pictured). After starting as a special co-host on THE GROOVE, LEN would continue with shows on CKCU and CHOU FM. His CLUB 747 disco would appear and reappear in a variety of locations over three and a half decades - keeping up a constant interest in the Soul, Hip Hop and Funk of the 1970's and 1980's. That is a rare accomplishment that has left a lasting impact on thousands throughout the National Capital Region. Here are some of his own words about the subject: "During 1978 - 1991 Mr Ebony, Having Established Le Club 747 @ Agostino's Restaurant in Hull Quebec in the Summer of 83. Returned to Ottawa around 85, and Operated 4 other Clubs under the Name 747.During the Grey Cup which was was Staged in Ottawa 1988,opened @ the Lipstick Building, 747 became the Location for most After Parties, when Rapp Artist Performed in the City, such as Ice T who can now be seen on Law & Order.Len was also involve with the Caraband Caribbean in Toronto associated with a Masquerade Costume Band named Borokeete from Mississauga Toronto. Ottawa joined the Carnival fever sweeping Canada in 94,and saw him as Grand Marshall of the Fete' Carib Caribbean Festival for 3 years. On November 10th 2010,opened FACES@ The Concorde Motel in Vanier Ottawa, Facilating Caribbean Music eg Calypso, Reggae, Hatian,& Latina. Len ended this Production in the Fall of 2014 Leaving the Night Life Scene.Len Resurfaced this Year@ the CROSS, Roof Top Patio, with the 747 Dance Party Supported by ASR Entertainment on a Monthly Basis, "BRINGING IT BACK". On October 6th on Thanksgiving Saturday, Celebrating 35 years, with returning Dj Rudeboy,and Alfred Funk,with Lp / Dr Soul as the Host. Len has now Established an Online Radio / Television Network @ 235 Montreal Road Vanier Ottawa too be Fully Operational soon. Let's return to an Era, where the Music Uplifted the Spirit, and Love Motivated the Heart. BIAMEDIA,
wwwbiamedia.ca
http/biamedia entertainment-channel.." We remember going to CLUB 747 in two different locations in the Hull sector of Gatineau, in the Byward Market, Centretown on Queen and Elgin streets, in Vanier on Montreal Road and also at a hotel at the corner of Montreal Road and highway 174. In fact it was the last location so mentioned we first heard The Gap Band classic "I Don't Believe You Want To Get Up And Dance (Oops Upside Your Head)". This show will feature that and some other Funk gems that one might hear in the CLUB747:
FUNKIN' FOR JAMAICA
TOM BROWNE - 12" - 12 INCH GOLD
I DON'T BELIEVE YOU WANT TO GET UP AND DANCE (OOPS UPSIDE YOUR HEAD)
THE GAP BAND - 12" - MERCURY
DO IT ROGER
ROGER - THE MANY FACETS OF ROGER (LP) - WARNER BROS.
THIS IS HOW WE DO IT
MONTELL JORDAN - AMERICA'S MOST WANTED PART 2 (EP) - AMERICA'S MOST WANTED
LET'S GET CRACKIN'
SHOCK - SHOCK (LP) - FANTASY
MORE BOUNCE TO THE OUNCE
ZAPP - 12" - WARNER BROS.
I LIKE GIRLS
FATBACK - FiIRED UP 'N' KICKIN' (LP) - SPRING
OUTSTANDING
THE GAP BAND - 12" - TOTAL EXPERIENCE
READY OR NOT
HERBIE HANCOCK - 12" - COLUMBIA
POO POO LA LA
ROY AYERS - 12" - COLUMBIA
LOVE RIP OFF
CROWN HEIGHTS AFFAIR - FUNKY MUSIC CLASSICS VOLUME 5 (2LP) - UNIDISC
FEEL SO REAL
STEVE ARRINGTON - 12" - ATLANTIC
IT'S YOUR TURN (EXTENDED VERSION)
DELEGATION - 12" - CBS
SHE'S JUST A GROUPIE
BOBBY NUMM - 12" - MOTOWN
A NIGHT TO REMEMBER
SHALAMAR - 12" - SOLAR
IT'S YOUR NIGHT
RAY PARKER JR. and RAYDIO - A WOMAN NEEDS LOVE (LP) - ARISTA
GIVE ME THE NIGHT (LONG VERSION)
GEORGE BENSON - 12" - WARNER BROS.
TREAT HER LIKE A LADY
THE TEMPTATIONS - 12" - MOTOWN
CELEBRATION
KOOL & THE GANG - CELEBRATE! (LP) - DE-LITE
NO PARKING (ON THE DANCE FLOOR)
MIDNIGHT STAR - NO PARKING ON THE DANCE FLOOR (LP) - SOLAR
CHEAP THRILLS
PLANET PATROL - 12" - TOMMY BOY
I FEEL FOR YOU
CHAKA KHAN - 7" - WARNER BROS.
I HEARD IT THROUGH THE GRAPEVINE
ROGER - 12" - WARNER BROS.