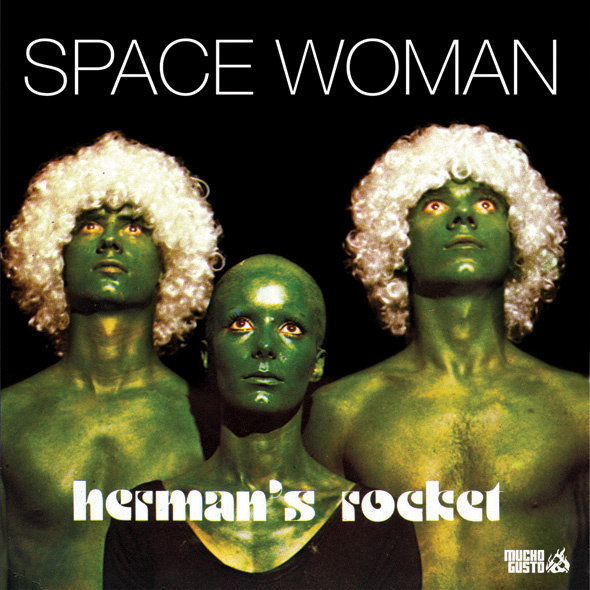 The Groove
Saturday May 19th, 2018 with ELORIOUS CAIN
Back to outer Space!
The Groove returns to the wonderful world of SPACE music that dominated discotheques throughout the late 1970's and 1980's; especially in Europe, where celebrated acts like SPACE, the ROCKETS and SPACE ART inspired multitudes of dj's and producers. Included in the this are recordings by EURODISCO masters like ALEC R. COSTANDINOS with SUMERIA, LA BIONDA, and CERRONE with CRISTAL. We also have included AMERICAN DISCO artists like THE SALSOUL ORCHESTRA and MECO with his wildly popular "STAR WARS" medley. Canadian's like LAURIE MARSHALL, THE IMMORTALS, and CHARLIE MIKE SIERRA are included along with just some of the many fascinating European acts that made the whole SPACE genre so intriguing and entertaining! One of those being HERMAN'S ROCKET. The cover of the Mucho Gusto Records 2009 reissue of their SPACE WOMAN album is pictured here. In terms of the variety and influence of SPACE music, this show is just a small sample!
SOMEWHERE, ELSEWHERE
SUMERIA - GOLDEN TEARS (LP) - RAAL
GREEN CREATURE
HERMAN'S ROCKET - SPACE WOMAN (LP) - MUCHO GUSTO
EYES SHADE
SPACE ART - TRIP IN THE HEAD CENTER (LP) - CARRERE
ASTRO STORM
ROCKETS - π 3,14 (LP) - ROCKLAND
FUTUR WOMAN
ROCKETS - ROCKETS (LP) - DERAM
TERRE LARBOUR
ROCKETS - ROCKETS (LP) - DERAM
MAGIC FLY
SPACE - 12" - ABLE
PHONIC
CRISTAL - 12" - CROCOS
MONKEY STAR
ARPADYS - ARPADYS (LP) - POLYDOR
JUST BLUE
SPACE - JUST BLUE (LP) - CASABLANCA
STONE ROLLER
ARPADYS - ARPADYS (LP) - POLYDOR
EXTRATERRESTRIAL LOVER (INSTR.)
SILVIA LOVE - 12" - RCA
THE DISCO SPACESHIP (INSTRUMENTAL)
LAURIE MARSHALL - 12" - CASINO

SALSOUL: 3001
THE SALSOUL ORCHESTRA - Nice 'N' Naasty (LP) - SALSOUL
TITLE THEME
MECO - Music Inspired By Star Wars And Other Galactic Funk (LP) - MILLENNIUM
IMPERIAL ATTACK
MECO - Music Inspired By Star Wars And Other Galactic Funk (LP) - MILLENNIUM
THE DESERT AND THE ROBOT AUCTION
MECO - Music Inspired By Star Wars And Other Galactic Funk (LP) - MILLENNIUM
THE PRINCESS APPEARS
MECO - Music Inspired By Star Wars And Other Galactic Funk (LP) - MILLENNIUM
THE LAND OF THE SAND PEOPLE
MECO - Music Inspired By Star Wars And Other Galactic Funk (LP) - MILLENNIUM
PRINCESS LEIA'S THEME
MECO - Music Inspired By Star Wars And Other Galactic Funk (LP) - MILLENNIUM
CANTINA BAND
MECO - Music Inspired By Star Wars And Other Galactic Funk (LP) - MILLENNIUM
THE LAST BATTLE
MECO - Music Inspired By Star Wars And Other Galactic Funk (LP) - MILLENNIUM
CONQUEST OF MUNDHORA
FINAL OFFSPRING - THE DESTRUCTION OF MUNDHORA (LP) - CARRERE
ROBOT'S ORDERS
FINAL OFFSPRING - THE DESTRUCTION OF MUNDHORA (LP) - CARRERE
DESERTS OF MARS
LA BIONDA - BANDIDO (LP) - BABY
THE ULTIMATE WARLORD
THE IMMORTALS - 12" - RCA

FINAL SIGNAL
SPACE - JUST BLUE (LP) - CASABLANCA
BATTLE OF THE STARS
CHARLIE MIKE SIERRA - ON THE MOON (LP) - Kébec-Disc

SAVE YOUR LOVE FOR ME
SPACE - JUST BLUE (LP) - CASABLANCA
TOUT PETIT LA PLANETE
PLASTIC BERTRAND - J'te Fais Un Plan (LP) - VOGUE
FUTURE WOMAN
LES ROCKETS - 12" - DERAM
SPACE INVADERS
PLAYER 1 - 12" - WEA
EVOLUTION
GIORGIO MORODER - MUSIC FROM "BATTLESTAR GALACTICA" AND OTHER ORIGINAL COMPOSITIONS (LP) - CASABLANCA