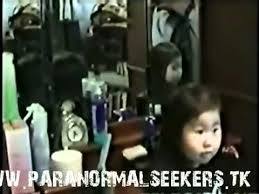 The Groove
Saturday May 6th, 2017 with Elorious Cain
Mirror, mirror???
This episode is inspired by the dozens of examples on the internet that are either photographs or videos of persons turning away from mirrors while their images turn around and look back at them; something that is supposed to be impossible! The included image is part of an old film from Japan featuring a sweet innocent girl brushing her hair in the mirror and then turning to the filmmaker to speak. Her image turns back to look at her while she chats away!! Recently a selfie of a young couple created quite the stir on social media. On that selfie one can clearly see the girl's image on the mirror behind them turning back to smile just as the girl is smiling! There is no doubt that some of these images are faked. The internet is filled with such folly. All the same if even two of these photographs and videos are authentic it brings us to a potentially terrifying juncture. Whatever causes such an event to occur? Is it dangerous? Logic prevails as billions of images occur in mirrors every day and night all over the planet. To say that this type of bizarre occurrence is not that common would be a gigantic understatement. Yet do you ask yourself if your image ever looks back at you as you turn away from your mirror?
Special effects representing the strange and unknown are periodically ghosted over instrumentals. The flow of life peppered with bits of the unexplainable!
45:33 (PART 2)
LCD SOUNDSYSTEM - 45:33 (2LP) - DFA
SUPER DISCO
ALEX GOPHER - 10" - DISQUES SOLID
STORK
BOTTIN - 12" - PERSEO
TEXICO SPECIAL
TEXICO - TEXICO (LP) - GAMMA
PIECE OF MIND
LINKWOOD FAMILY - 10" - FIRECRACKER RECORDINGS
(untitled) - side a
SECRET SQUIRRELS #11 - 12" - SECRET SQUIRREL
TALKING ALL THAT JAZZ (TORTI'S OLD SCHOOL OF EDIT DUB)
STETSASONIC - A NIGHT AT THE PLAYBOY MANSION (2LP) - ASTRALWERKS
THE COMING (IDJUT BOYS VERSION 1)
ARSENAL - 12" - PLAY OUT!
45:33 (PART 3)
LCD SOUNDSYSTEM - 45:33 (2LP) - DFA
WHO IS HE (TSS TSS REMIX)
BILL WITHERS - 12" - GAMM ENTERPRISES
MAD AS HELL
BLACK MUSTANG vrs KERRIER DISTRICT - BLACKOUT (EP) - LOEB
HOUSE OF THE RISING SUN
HOT R.S. - HOT R.S. (LP) - VOGUE
THE BEAUTY & THE BEAST (UNDERWORLD REMIX94)
SVEN VATH - 12" - INTERGROOVE
LIQUIDATION TOTALE
ETIENNE DE CRECY - 10" - DISQUES SOLID
WINDS OF CHANGE
ALEC R. COSTANDINOS - WINDS OF CHANGE - A MUSICAL FANTASY (LP) - CASABLANCA
BLISSFULL BURDON (VOCAL REINTERPRETATION BY KRIS MENACE)
UNAI - 12" - DISCO INC.
LACK OF SENSE (RE-EDIT BY JOSEPH WATT)
TRIBANTURA - RAZORMAID CHAPTER 20 (2LP) - RAZORMAID
ISN'T IT CRAZY (RE-EDIT BY MICHAEL LEWIS)
PLUUTO - RAZORMAID CHAPTER 20 (2LP) - RAZORMAID
QUARTZ
QUARTZ - QUARTZ (LP) - VOGUE
KRIS MENACE REMIX (INSTRUMENTAL)
UNAI - 12" - DISCO INC.
45:33 (PART 4)
LCD SOUNDSYSTEM - 45:33 (2LP) - DFA