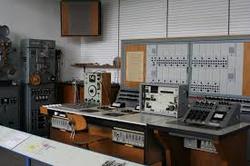 The Groove
Saturday August 29th, 2015 with ELORIOUS CAIN
ELECTRONIC DISCO is not E.D.M.!!!
What was started in the early 1970's by artists like GIORGIO MORODER would intensify later and influence other future genres of disco like TECHNO, GOA and TRANCE, to name just a handful! That ELECTRONIC DISCO sound so perfected by MORODER and artists like the legendary BLACK DEVIL never faded from the public consciousness. Other artists would experiment with it. It never vanished.
GIORGIO BY MORODER
DAFT PUNK (featuring GIORGIO MORODER) - RANDOM ACCESS MEMORIES (2LP) - COLUMBIA
BENHUR OUR SELFSUPPORTER
M.F.A. - MUSIC FOR ASSHOLES (2LP) - BLUE
MAD AS HELL (SLEEPARCHIVE DISCO DUB)
BLACK MUSTANG vs. KERRIER DISTRICT & SLEEPARCHIVE - 12" - LOEB
CREATIONS PART ONE
HIATUS KAIYOTE - CHOOSE YOUR WEAPON (2LP) - FLYING BUDDHA

CREATIONS PART TWO
HIATUS KAIYOTE - CHOOSE YOUR WEAPON (2LP) - FLYING BUDDHA

WILDSPOT
THE ADVISORY CIRCLE - GHOST BOX STUDY SERIES 08 - INVERSIONS (7") - GHOST BOX
LADY
CHROMATICS - IN THE CITY (EP) - ITALIANS DO IT BETTER
45:33 (side b)
LCD SOUNDSYSTEM - 45:33 (2LP) - DFA
74 IS THE NEW 24 (LIFELIKE & KRIS MENACE REMIX)
GIORGIO MORODER - DEJA - VU (2LP) - RCA/SONY MUSIC

ANOTHER SKIN
BLACK DEVIL DISCO CLUB - IN DUB (LP) - LO RECORDINGS
ONE TO CHOOSE
BLACK DEVIL - DISCO CLUB (LP) - ALTER K
"H" FRIEND
BLACK DEVIL - DISCO CLUB (LP) - ALTER K
TIMING, FORGET THE TIMING
BLACK DEVIL - DISCO CLUB (LP) - ALTER K
TIMING, FORGET THE TIMING (KERRIER DISTRICT REMIX)
BLACK DEVIL - 12" - REFLEX
X PARADISE (EXTENDED MIX)
BLACK DEVIL DISCO CLUB featuring AJA EMMA - CIRCUS (2LP) - LO RECORDINGS
THE NUMBER ONE SONG IN HEAVEN
SPARKS - NO.1 IN HEAVEN (LP) - VIRGIN
FUZZY DREAM (EXTENDED MIX)
BLACK DEVIL DISCO CLUB featuring JON SPENCER - CIRCUS (2LP) - LO RECORDINGS
EXPRESS (ZONES EDIT)
TEK BOX - 12" - GLASGOW UNDERGROUND
DELOREAN DYNAMTE
TODD TERJE - IT'S ALBUM TIME WITH TODD TERJE (2LP) - OLSEN
KITTEN IS HIGH (9/11 MIX BY BLACK LABELLE)
MS. KITTEN - 12" - NOBODY'S BIZZNESS
I FEEL LOVE (GLENN UNDERGROUND REMIX)
DONNA SUMMER - 12" - LEG
TRISCO (WONDERLAND AVE. REMIX)
MUSAK - 12" - VINYL ADDICTION
I FEEL LOVE (PATRICK COWLEY MEGA MIX)
DONNA SUMMER - 12" - CASABLANCA
GLUTTONY
LAURIN RINDER & W. MICHAEL LEWIS - SEVEN DEADLY SINS (LP) - AVI
BLUE TO BE HAPPY
M.F.A. - MUSIC FOR ASSHOLES (2LP) - BLUE
LE DISCO
GIORGIO MORODER - DEJA - VU (2LP) - RCA/SONY MUSIC

TO ARDENT (EXTENDED MIX)
BLACK DEVIL DISCO CLUB featuring NANCY SINATRA - CIRCUS (2LP) - LO RECORDINGS