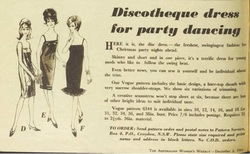 The Groove
Saturday May 30th, 2015 with ELORIOUS CAIN
Discotheque dress for party dancing...
This show is inspired by this newspaper clipping from 1964 picturing "discotheque dresses"! Wild! Material played on this show was, according to various sources, played in discos during the 1960's and early 1970's. Songs here were released between 1962 and 1970! Deliberately not included are tracks from Motown and artists like Sly & The Family and James Brown. Let's stay away from the music politics connected to current perceptions of those acts. There are also no examples of other developed genres of disco like Congolese Rumba, Compass and Ska (and associated Rock Steady, Reggae and Dub.) Many of the featured artists continued into the 1970's to succeed with Eurodisco or American Disco like Jimmy Castor, Isaac Hayes and Serge Gainsbourg. For your information, the date of release of each track is included right after the song titles. Enjoy!
AT THE DISCOTHEQUE (1962)
CHUBBY CHECKER - 7" - PARKWAY
An OED Appeal for "disco"
FIONA MCPHERSON for the OXFORD ENGLISH DICTIONARY - youtube
LOVE IS A LIKE A BASEBALL GAME [1968]
THE INTRUDERS - youtube
O-O-H CHILD [1970]
THE FIVE STAIRSTEPS - youtube
WALK ON BY [1969]
ISAAC HAYES - HOT BUTTERED SOUL (LP) - ENTERPRISE
HEY, LEROY, YOUR MAMA'S CALLIN' YOU (1966)
JIMMY CASTOR - 7" - SMASH
ACID (1968)
RAY BARRETTO - ACID (LP) - VAMPISOUL
SOUND OF THE WITCH DOCTORS (1968)
THE MOHAWKS - 7" - PAMA
JE T'AIME... MOI NON PLUS [1969]
JANE BIRKIN / SERGE GAINSBOURG - JANE BIRKIN / SERGE GAINSBOURG (LP) - FONTANA
JANE B. [1969]
JANE BIRKIN - DUSTY FINGERS VOLUME FIVE (LP) - STRICTLY BREAK
REQUIEM POUR UN CON [1967]
SERGE GAINSBOURG - youtube
SENIOR THUMP [1970]
THE MOHAWKS - THE CHAMP (LP) - PAMA
IT WAS A VERY GOOD YEAR [1966]
DELLA REESE - ELK'S DISCO PAK (LP) - ELK'S
IT'S OK [1965]
JIMMY CASTOR - 7" - JET SET
BABY COME BACK [1967]
THE EQUALS - DISCOBUMPERS (LP) - MUSIC FOR PLEASURE
EVERLASTING LOVE [1967]
LOVE AFFAIR - youtube
BABY HOLD ON [1968]
THE MOHAWKS - 7" - PAMA
THERE WAS A TIME [1969]
DEE FELICE TRIO - JAMES BROWN'S FAMILY VOLUME 2 (LP) - BLACK NOTE
HECTOR [1968]
THE VILLAGE CALLERS - 7" - RAMPART
I FEEL FUNKY [1970]
MATALA - youtube
THE CHAMP [1969]
THE MOHAWKS - 7" - JJ
SEXOPOLIS [1968]
JEAN PIERRE MIROUZE - 7" - DISCS AZ
YOU'RE NO GOOD [1968]
HARVEY AVERNE - DUSTY FINGERS VOLUME 2 (LP) - STRICKY BREAK
CALIFORNIA SOUL [1969]
MARLENA SHAW - THE SPICE OF LIFE (LP) - CADET
DO THE TRAIN (1969)
WILLIE WOOTEN ORCHESTRA - 7" - VIRTUE
BANDE ORIGINALE DU FILM "LA HORSE" - LA HORSE [1969]
SERGE GAINSBOURG et JEAN-CLAUDE VANNIER - 7" - HORTENSIA
LA HORSE BONUS BEATS [1969]
SERGE GAINSBOURG et JEAN-CLAUDE VANNIER - LES SELECTIONS DU CINEMA DE GAINSBOURG (EP) - LE SMOKE DISQUE
DAUGHTER OF DARKNESS [1970]
TOM JONES - youtube
FEVER [1970]
MARIE QUEENIE LYONS - SOUL FEVER (LP) - VAMPISOUL
AFRICAN BOOGALOO [1968]
JACKIE LEE - 7" - KEYMEN
BLACK SKIN BLUE EYED BOYS (1970)
THE EQUALS - 7" - SHOUT
DO IT (1969)
BILLY SHA-RAE - 7" - HOURGLASS
NORTH RICHMOND BREAKAWAY [1969]
J.G.D. & THE NEW BREED - CALIFORNIA FUNK (2LP) - JAZZMAN
WHAT'S IT GONNA BE [1969]
BARBARA ACKLIN - SOMEONE ELSE'S ARMS (LP) - MCA
VIVA BOBBY JOE
THE EQUALS - 7" - PRESIDENT
RUB A DUB DUB (1970)
THE EQUALS - youtube
IN THE SUMMERTIME (1970)
MUNGO JERRY - youtube
An OED Appeal for "disco"
FIONA MCPHERSON for the OXFORD ENGLISH DICTIONARY - youtube