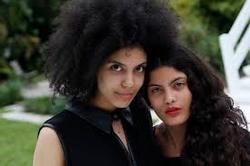 The Groove
Saturday May 16th, 2015 with ELORIOUS CAIN
IBEYI + ghosts of a triphop/chillstep fantasy
We begin this episode with the entire debut IBEYI LP! IBEYI is the dynamic duo of twin Franco-Cuban sisters LISA-KAINDE and NAOMI DIAZ. They enjoyed international success in 2014 with the alluring triphop song "RIVER" which was named as one of the top ten hits of Africa. It was also included in CHARLOTTE CAIN'S TOP 25 DISCO SONGS OF 2014 (THE GROOVE January 3,2015). Their father was the legendary Miguel "Angá" Díaz of IRAKERE, THE AFRO-CUBAN ALLSTARS and BUENA VISTA SOCIAL CLUB. Naturally his influence can be felt in their music that is a mix of traditional Cuban, TRIBAL, TRIPHOP and ACID JAZZ. Discover the delightful IBEYI! ---------------------------------------------------------- And a special thanks to Charlotte for lending me her record!
ELUGGUA
IBEYI - IBEYI (LP) - XL RECORDINGS

OYA
IBEYI - IBEYI (LP) - XL RECORDINGS

GHOSTS
IBEYI - IBEYI (LP) - XL RECORDINGS

RIVER
IBEYI - IBEYI (LP) - XL RECORDINGS

THINK OF YOU
IBEYI - IBEYI (LP) - XL RECORDINGS

BEHIND THE CURTAIN
IBEYI - IBEYI (LP) - XL RECORDINGS

IBEYI
IBEYI - IBEYI (LP) - XL RECORDINGS

MAMA SAYS
IBEYI - IBEYI (LP) - XL RECORDINGS

WEATHERMAN
IBEYI - IBEYI (LP) - XL RECORDINGS

FAITHFUL
IBEYI - IBEYI (LP) - XL RECORDINGS

YANIRA
IBEYI - IBEYI (LP) - XL RECORDINGS

SINGLES
IBEYI - IBEYI(LP) - XL RECORDINGS

STRANGER/LOVER
IBEYI - IBEYI (LP) - XL RECORDINGS

REVIVAL
MARTINE GIRAULT - GIANT STEPS VOLUME ONE (LP) - PAYDAY/FREQUENCY FULL RANGE RECORDINGS
AUTUMN LEAVES
COLDCUT - 12" - NINJA TUNE
SANTUARY
BOBONO - youtube
SPACEMAN
JOE BEATS - HOPESTRUMENTALS (CD) - GOOD FOOT
THE MESSENGER
JON KENNEDY - WE'RE JUST WAITING FOR YOU NOW (2LP) - TRU THOUGHTS
PAINTING PLASTICS
VIM! - youtube
INCLINES
EXPRESS RISING - youtube
DECREASING DAYLIGHT
ARTS THE BEATDOCTOR - TRANSITIONS (2LP) - UNEXPECTED
THE CROW
DJ FOOD - youtube
EN ATTENDANT COUSTEAU
JEAN MICHEL JARRE - EN ATTENDANT COUSTEAU (LP) - DISQUES DREYFUS
POSSIBILITY (LIVE RECORDING)
LYKKE LI - youtube - ATLANTIC
TEARDROP (SCREAM TEAM REMIX)
MASSIVE ATTACK featuring ELIZABETH FRASER - youtube
REQUIEM (A FLOATING LEAF ALWAYS REACHES THE SEA DUB MIX)
KILLING JOKE - 110 BELOW (2LP) - BELOW
THE SIREN SONG
THIS MORTAL COIL - THIS MORTAL COIL (EP) - 4AD
7 YEARS OF BAD LUCK FOR FUN
THE GASLAMP KILLER featuring DIMLITE - BREAKTHROUGH (2LP) - BRAINFEEDER
THE HOST OF SERAPHIM (ENIGMA DUBZ MIX)
DEAD CAN DANCE - youtube
ALL MINE
PORTISHEAD - PORTISHEAD (2LP) - GO! BEAT/LONDON
ET TOUTES CES CHOSES....
ROUGE ROUGE featuring KARIN VIARD - HOTEL COSTES 9 (CD) - PSCHENT