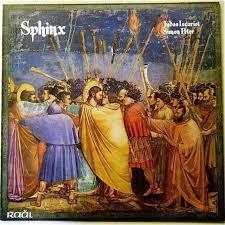 The Groove
Saturday April 4th, 2015 with ELORIOUS CAIN
Christian Disco and Disco about Christianity
It was a moment of discovery and excitement when I first saw a copy of the SPHINX LP "JUDAS". The cover was so magnificent and rich with classic artwork from another era. I would have thought that is was some kind of classical or opera record had it not had a transparent sticker saying "SPECIAL DISCO". I bought it and took home to discover an unbelievable Eurodisco opus taking me back to the turbulent final days of Jesus Christ on Earth. The music was rich and intense produced by the revolutionary ALEC R. COSTANDINOS whose ambitious recordings would change the lives of millions. I feature both epic recordings from that now legendary SPHINX LP in this show dedicated to Christian Disco. I am also featuring tracks from various disco genres with a subject matter directly connected to Christian religions. A special thank you to TEKNOBRAT for his assistance in the preparation of this show!
MIGHTY CLOUD OF JOY
MIGHTY CLOUDS OF JOY - IT'S TIME (LP) - ABC-DUNHILL
MIGHTY HIGH
MIGHTY CLOUDS OF JOY - 12" - ABC
DAY BY DAY
PAT LUNDY - DISCO HUSTLE (2LP) - ADAM VIII
JUDAS ISCARIOT
SPHINX - JUDAS (LP) - RAAL/POLYDOR
SIMON PETER
SPHINX - JUDAS (LP) - RAAL/POLYDOR
DEVIL'S GUN
CJ. & CO. - DEVIL'S GUN (LP) - ATLANTIC
HAVE MERCY
RAZE - 12" - GROVE ST.
DOWN TOWN
THE JUSTIFIED ANCIENTS OF MU MU - 12" - KLF COMMUNICATIONS
CRUCIFIED (THE NUZAK REMIX)
ARMY OF LOVERS - 12" - CHINA
HOUSE OF GOD
DHS - 12" - R&S
JUDGEMENT DAY (RADIO EDIT)
ARMY OF LOVERS - 12" - CHINA
PREACHER MAN
GREEN VELVET - VELVET TRACKS (EP) - RELIEF
WE MAGNIFY HIS NAME
FLOORPLAN - SANCTIFIED (EP) - MPLANT .
GOD HE IS
TERRENCE PARKER (featuring KELLY GUNN) - LIFE ON THE BACK 9 (3LP) - PLANET E
GOD'S GREAT DANCE FLOOR
PASSION featuring CHRIS TOMLIN - youtube
JESUS HIGH
APPLEJAXX featuring - youtube
I BELIEVE IN CHRIST
SALVATION - youtube
AWESOME GOD
ROBERT DELONG - youtube