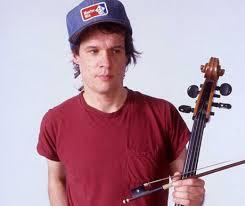 The Groove
Saturday January 17th, 2015 with ELORIOUS CAIN
ARTHUR RUSSELL (1951-1992)
ARTHUR RUSSELL was an amazing Cellist, producer and composer who provided the New York Underground in American Disco with an array of spectacular and very experimental recordings. He was never properly recognized and celebrated, at least until after his early death due to illness. This show begins with some of his rare country and folk recordings before jumping into a selection of his Disco. ARTHUR RUSSELL's music was more than just experimental; it was jazzy, punky and gay at times. During the turbulence of the 1980's, his approach became somewhat popular outside of the New York underground, influencing the developing House Music and Acid Jazz genres.
CLOSE MY EYES
ARTHUR RUSSELL - LOVE IS OVERTAKING ME (2LP) - AUDIKA
GOODBYE OLD PAINT
ARTHUR RUSSELL - LOVE IS OVERTAKING ME (2LP) - AUDIKA
LOVE COMES BACK
ARTHUR RUSSELL - LOVE IS OVERTAKING ME (2LP) - AUDIKA
THIS IS HOW WE WALK ON THE MOON
ARTHUR RUSSELL - ANOTHER THOUGHT (2LP) - ARC LIGHT EDITIONS
IS IT ALL OVER MY FACE (ORIGINAL MALE VERSION)
LOOSE JOINTS - youtube
IS IT ALL OVER MY FACE?
LOOSE JOINTS - 12" - WEST END
TELL YOU (IT'S OVER)
LOOSE JOINTS - 12" - 4TH & B'WAY
WAX THE VAN
LOLA - THE WORLD OF ARTHUR RUSSELL (3LP) - SOUL JAZZ
I LIKE YOU!
ARTHUR RUSSELL - CALLING OUT OF CONTEXT (2LP) - AUDIKA
CALLING ALL KIDS (WALTER GIBBONS MIX)
ARTHUR RUSSELL - CALLING OUT OF CONTEXT (2LP) - AUDIKA
SEE THROUGH (WALTER GIBBONS MIX)
ARTHUR RUSSELL - WALTER GIBBONS ‎– JUNGLE MUSIC - MIXED WITH LOVE: ESSENTIAL & UNRELEASED REMIXES 1976-1986 (2CD) - STRUT
POP YOUR FUNK
LOOSE JOINTS - THE WORLD OF ARTHUR RUSSELL (3LP) - SOUL JAZZ
CLEAN ON YOUR BEAN #1
DINOSAUR L - 12" - SLEEPING BAG
GO BANG #5
DINOSAUR L - 12" - SLEEPING BAG
SCHOOLBELL/TREEHOUSE (WALTER GIBBONS MIX)
INDIAN OCEAN - THE WORLD OF ARTHUR RUSSELL (3LP) - SOUL JAZZ
KISS ME AGAIN
DINOSAUR - 12" - SIRE
DINOSAUR L BANGS AGAIN
DINOSAUR L - 12" - CITYBEAT
LET'S GO SWIMMING (WALTER GIBBONS MIX)
ARTHUR RUSSELL - THE WORLD OF ARTHUR RUSSELL (3LP) - SOUL JAZZ