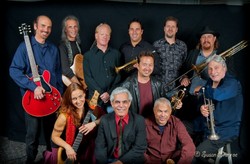 The Groove
Saturday November 29th, 2014 with ELORIOUS CAIN
SANTA ESMERALDA and the Santa Esmeralda Movement
No other single Eurodisco group became as popular and influencial on a worldwide scale as did SANTA ESMERALDA. Created in 1977 by producers NICOLAS SKORSKY and JEAN MANUEL DE SCARANO, SANTA ESMERALDA combined Spanish flamingo music with Eurodisco to make an explosive and erotic new music. With the sensuous and arresting vocals of LEROY GOMEZ interpreting THE ANIMALS' hit "DON'T LET ME BE MISUNDERSTOOD" this new SANTA ESMERALDA combination of throbbing EURODISCO, ROCK and Spanish Flamingo exploded on to the world scene like very few other recordings. SANTA ESMERALDA became extremely popular in countries around the globe demonstrating the incredible flexibility of EURODISCO and spawning a whole now subcategory in DISCO which was often referred to as the SANTA ESMERALDA MOVEMENT. After DON'T LET ME BE MISUNDERSTOOD starring LEROY GOMEZ, SANTA ESMERALDA would release six more LP'S featuring the singer JIMMY GOINGS; THE HOUSE OF THE RISING SUN, BEAUTY, DON'T BE SHY TONIGHT, HUSH, GREEN TALISMAN, and the highly popular ANOTHER CHA-CHA. These albums continued the SANTA ESMERALDA legend even further. In this century SANTA ESMERALDA continues with more new material fronted with the amazing LEROY GOMEZ again. Included is a more recent photo of the incarnation of the group today. They appear live performing the classics from the 1970's and 1980's plus newer SANTA ESMERALDA music. They continue that erotic flame started back in 1977! I feature most of the SANTA ESMERALDA standards mixed with some of the "SANTA ESMERALDA MOVEMENT" recordings at the time.
DON'T LE ME BE MISUNDERSTOOD
SANTA ESMERALDA starring LEROY GOMEZ - DON'T LET ME BE MISUNDERSTOOD (LP) - PHILIPS
ESMERALDA SUITE
SANTA ESMERALDA starring LEROY GOMEZ - DON'T LET ME BE MISUNDERSTOOD (LP) - PHILIPS
REVELACION SUITE
REVELACION - THE HOUSE OF THE RISING SUN (LP) - LES DISQUES MARTIN
THE HOUSE OF THE RISING SUN
SANTA ESMERALDA starring JIMMY GOINGS - THE HOUSE OF THE RISING SUN (LP) - PHILIPS
QUASIMODO SUITE
SANTA ESMERALDA starring JIMMY GOINGS - THE HOUSE OF THE RISING SUN (LP) - PHILIPS
THE WAGES OF SIN (PART 1)
SANTA ESMERALDA starring JIMMY GOINGS - BEAUTY (LP) - PHILIPS
DANSE DE LA BEAUTE (PART 1)
SANTA ESMERALDA starring JIMMY GOINGS - BEAUTY (LP) - PHILIPS
THE WAGES OF SIN (PART 2)
SANTA ESMERALDA starring JIMMY GOINGS - BEAUTY (LP) - PHILIPS
DANSE DE LA BEAUTE (PART 2)
SANTA ESMERALDA starring JIMMY GOINGS - BEAUTY (LP) - PHILIPS
LA ESMERALDA
ALEC R. COSTANDINOS & THE SYNCOPHONIC ORCHESTRA - HUNCHBACK OF NOTRE DAME (LP) - RCA/IBIS
THE INCONVENIENCES OF FOLLOWING A PRETTY GIRL IN THE STREETS AT NIGHT
ALEC R. COSTANDINOS & THE SYNCOPHONIC ORCHESTRA - HUNCHBACK OF NOTRE DAME (LP) - RCA/IBIS
SEVILLA NIGHTS
SANTA ESMERALDA - THE ORIGINAL MOTION PICTURE SOUNDTRACK OF "THANK GOD IT'S FRIDAY" (3LP) - CASABLANCA
AMORE AMORE
AMERICAN EAGLES - KOKKA (LP) - CARRERE
C'EST MAGNIFIQUE
SANTA ESMERALDA featuring JIMMY GOINGS - DON'T BE SHY TONIGHT (LP) - CASABLANCA
SWEET SUITE
SANTA ESMERALDA featuring JIMMY GOINGS - DON'T BE SHY TONIGHT (LP) - CASABLANCA
BARCELONA
AMERICAN EAGLES - KOKKA (LP) - CARRERE
POROMPOMPERO
AMERICAN EAGLES - KOKKA (LP) - CARRERE
MALAGUENA (2)
GMT SOUND - 12" - BARCLAY
SUITE ESPAGNOLE OP.45
GMT SOUND - 12" - BARCLAY
TONK
AMERICAN EAGLES - KOKKA (LP) - CARRERE
ANOTHER CHA-CHA
SANTA ESMERALDA (starring JIMMY GOINGS) - ANOTHER CHA-CHA (LP) - FOREIGN EXCHANGE
GREEN TALISMAN
JIMMY GOINGS & SANTA ESMERALDA - GREEN TALISMAN (LP) - POLYDOR
THE BULL
THE MIKE THEODORE ORCHESTRA - COSMIC WIND (LP) - WESTBOUND
STREET FIGHTING MAM
SANTA ESMERALDA featuring JIMMY GOINGS - HUSH (LP) - DERBY
STREET SUITE
SANTA ESMERALDA featuring JIMMY GOINGS - HUSH (LP) - DERBY
ONLY BEAUTY SURVIVES
SANTA ESMERALDA starring JIMMY GOINGS - BEAUTY (LP) - PHILIPS