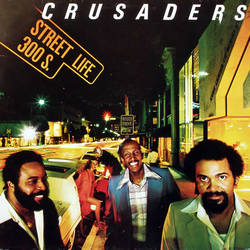 The Groove
Saturday September 27th, 2014 with ELORIOUS CAIN
Joseph Leslie "Joe" Sample (February 1, 1939 – September 12, 2014)
The importance of JOE SAMPLE goes far beyond his work with the legendary CRUSADERS. Yet the best way to celebrate and honour this amazing Jazz pianist and producer is with a feature of JAZZFUNK gems from THE CRUSADERS including their unforgettable DISCO classic "Street Life" featuring the hauntingly beautiful vocals of RANDY CRAWFORD. Also their is some solo material from JOE SAMPLE and a rich selection of remixes that demonstrate the vast influence he continues to have on 'mondo disco'.
THE PECAN TREE
JOE SAMPLE - youtube
THE HUSTLER
THE CRUSADERS - STREET LIFE (LP) - MCA
CHAIN REACTION
THE CRUSADERS - CHAIN REACTION (LP) - BLUE THUMB
THAT'S HOW I FEEL
THE CRUSADERS - CRUSADERS 1 (2LP) - BLUE THUMB
TAKE IT OR LEAVE IT
THE CRUSADERS - THE 2ND CRUSADE (2LP) - BLUE THUMB
CARNIVAL OF THE NIGHT
THE CRUSADERS - STREET LIFE (LP) - MCA
CARNIVAL OF THE NIGHT
CHRISTIAN PROMMER & ROBERTO DI GIO vs. THE CRUSADERS - youtube
CARMEL
JOE SAMPLE - youtube
LILLIES OF THE NILE
CHRISTIAN PROMMER & ROBERTO DI GIO vs. THE CRUSADERS - youtube
LILLIES OF THE NILE
THE CRUSADERS - SOUTHERN COMFORT (2LP) - BLUE THUMB
THE 'STREET LIFE" VERSIONS COMPETITION:

(Here now YOU, the listener can partipate by commenting on each of the ten versions of "STREET LIFE" through the INTERACTIVE COMMENTS option in this playlist or by calling 613-520-2528 during the airing of this show! What is the best version? Praise the version or versions that appeal to you! What is your opinion? Trash the mixes or versions you don't like. Say whatever you want!)
____________________________________________

VERSION NUMBER 1 - Original LP version:
STREET LIFE
CRUSADERS - STREET LIFE (LP) - MCA
VERSION NUMBER 2 - The "Moog & Scratch Edit" by SYNAPSON:

(SYNAPSON is a Paris based dj duo known for their FUNKY mixes.)
STREET LIFE (MOOG & SCRATCH EDIT BY SYNAPSON)
CRUSADERS - youtube
VERSION NUMBER 3 - The ALEXANDA Remix:
STREET LIFE (ALEXANDA REMIX)
RANDY CRAWFORD - youtube
VERSION NUMBER 4 - The original 12" version:
STREET LIFE (SPECIAL FULL LENGTH DISCO MIX)
CRUSADERS - 12" - MCA
VERSION NUMBER 5 - The OPOLOPO Rebound:

(OPOLOPO is a Swedish producer known for Jazzy breaks.)
STREET LIFE (OPOLOPO REBOUNCE)
CRUSADERS featuring RANDY CRAWFORD - youtube
VERSION NUMBER 6 - The Luciano Colman & Tevy Cavoti Remix:

(This pair of Italian dj's specialize in Nudisco and remixes of Classic standard Disco.)
STREET LIFE (LUCIANO COLMAN, TEVY CAVOTI REMIX)
CRUSADERS - youtube
VERSION NUMBER 7 - The WICK-IT-THE INSTIGATOR featuring FYÜTCH hiphop version:

(America's WICK-IT-THE-INSTIGATOR is known as a multi-genre dj, although outside of his hometown of Nashville he is often associated with HIP HOP. The featured rapper FYÜTCH also hails from Nashville.)
STREET LIFE
WICK-IT-THE INSTIGATOR featuring FYÜTCH) - youtube
VERSION NUMBER 8 - The UK Edit:
STREET LIFE (UK EDIT)
CRUSADERS featuring RANDY CRAWFORD - youtube
VERSION NUMBER 9 - The KARL G. Remix:

(KARL G. is a British TRANCE dj and producer.)
STREET LIFE (KARL G REMIX)
THE CRUSADERS - youtube
VERSION NUMBER 10 - The Mic Danja & Nick Nolte Rizzlino Production hiphop version:
STREET LIFE REMIX
MIC DANJA & NICK NOLTE - youtube
ONE DAY I'LL FLY AWAY
RANDY CRAWFORD - 12" - WARNER BROS