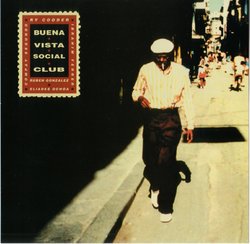 The Groove
Saturday March 29th, 2014 with ELORIOUS CAIN
"All true disco music can be traced back to three Caribbean Islands: Cuba, Hispaniola, and Jamaica..."Cuba nunca es subestimada.." (SON/SALSA/PACHANGA/RUMBA)
By popular demand I return to CUBAN music with a show that is rich with selections from BUENA VISTA SOCIAL CLUB and artists like COMPAY SEGUNDO, CELINA & REUTILIO, ALBITA RODRIGUEZ, and the legendary TRIO LA ROSA. There are also artists that are not CUBAN featured with tracks inspired by CUBAN music. Thousands of artists around the world have been inspired by CUBA. CUBA nunca es subestimada!
SILENCIO
IBRAHIM FERRER & OMARA PORTUONDO - youtube
DOS GARDENIAS
BUENA VISTA SOCIAL CLUB - youtube
BUENA VISTA SOCIAL CLUB
BUENA VISTA SOCIAL CLUB - -
PUEBLO NUEVO
BUENA VISTA SOCIAL CLUB - youtube
AMOR DE LOCA JUVENTUD
BUENA VISTA SOCIAL CLUB - youtube
DE CAMINO A LA VEREDA
BUENA VISTA SOCIAL CLUB - youtube
ROMPE SARAGUEY
BUENA VISTA SOCIAL CLUB - youtube
CIENFUEGOS TIENE SU GUAGUANCO
IBRAHIM FERRER - youtube
FRAGILIDAD
STING featuring BUENA VISTA SOCIAL CLUB - youtube
MARIETA
IBRAHIM FERRER - youtube
LA NEGRA TOMASA
BUENA VISTA SOCIAL CLUB - youtube
FLOR DE AUSENCIA
BUENA VISTA SOCIAL CLUB - youtube
EL CARRETERO
BUENA VISTA SOCIAL CLUB - youtube
CANDELA
BUENA VISTA SOCIAL CLUB - -
EL CUARTO DE TULA
BUENA VISTA SOCIAL CLUB - youtube
COMPOSITOR CONFUNDIDO
BUENA VISTA SOCIAL CLUB - youtube
SARANDONGO
COMPAY SEGUNDO - CUBAN MUSIC (CD)
EL MANICERO
BUENA VISTA SOCIAL CLUB - youtube
PARA QUE ME BESES TU
ALBITA RODRIGUEZ - CUBAN MUSIC (CD)
CUBA HAVANNA
BUENA VISTA SOCIAL CLUB - youtube
LA SOPA
CELIA CRUZ - CUBAN MUSIC (CD)
SANTA BARBARA
CELINA & REUTILIO JR, - youtube
TITO ON TUMBALES
TITO PUENTE - NU YORICA ROOTS! - THE RISE OF LATIN MUSIC IN NEW YORK CITY IN THE 1960'S (2LP) - SOUL JAZZ
TUMBAO
BUENA VISTA SOCIAL CLUB - CUBAN MUSIC (CD)
LAS MUJERES SIN CONCIENCIA
TRIO LA ROSA - youtube
TUMBA LA CANA
CELINA & REUTILIO - CUBAN MUSIC (CD)
LA CARIDA DEL COBRE PARA MI MADRE ROSITA CAREL
CELINA & REUTILIO - youtube