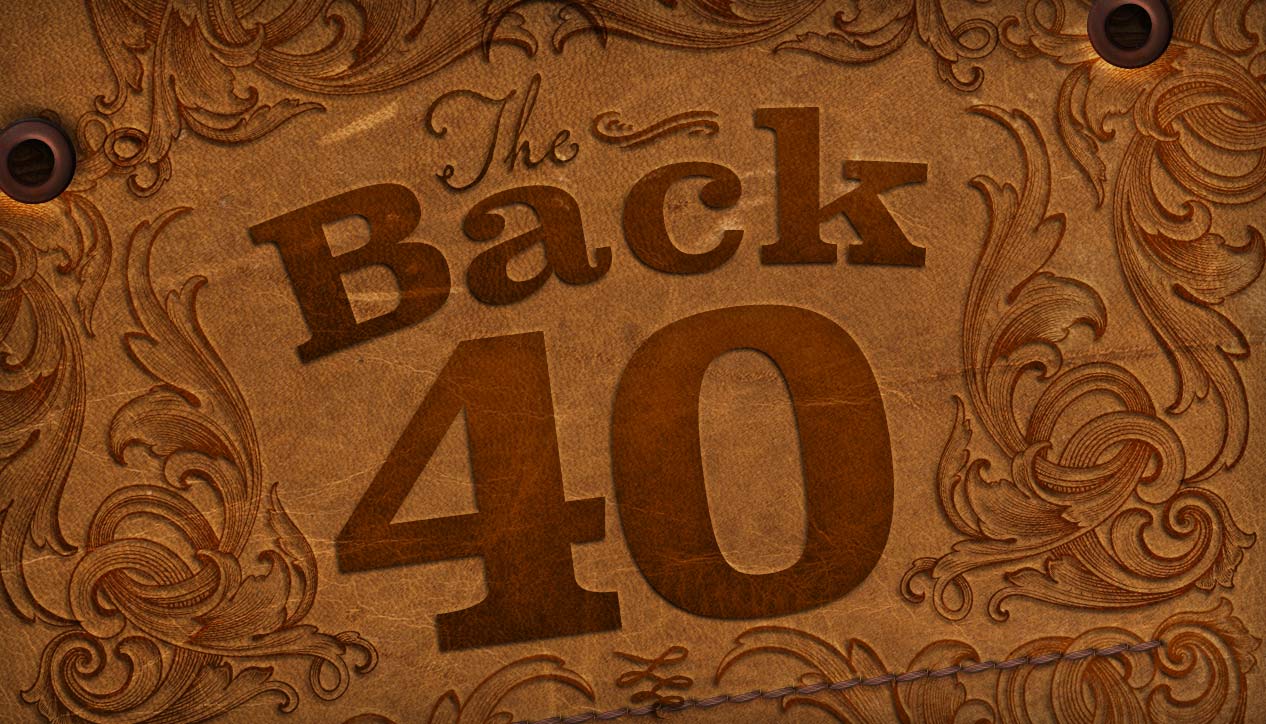 Bluegrass and classic country and western music plus interviews with artists from here and across North America.
Hosted by: Ron Moores
Airs: Every Saturday from 12:00 PM to 1:00 PM

Coming up at 12:00 PM on November 16th, 2019:
Week 4 Funding Drive finale: Last chance to dial, donate and pledge your financial support - please keep CKCU FM in your ears another year…Back 40 listener –supporters, we're counting on you and are especially grateful to each one of you who have already donated! Listen for new tracks.
| Date | Host | Highlight | On Demand |
| --- | --- | --- | --- |
| Nov. 9, 2019 | Ron Moores | Week 3 Funding Drive: Please keep us in your ears another year; dial and donate; punch and pledge online….with special guest "Slo' Tom" Stewart. | available |
| Nov. 2, 2019 | Ron Moores | Funding Drive Week 2, with special guests "Ball and Chain" (Michael Ball and Jody Benjamin): please dial and donate and keep us in your ears another year! | available |
| Oct. 26, 2019 | Ron Moores | Featuring an interview with Newfoundland/​Labrador singer-songwriter and record producer Jim Payne who visits to showcase his new double CD project: "Work, Work, Work: Work and Labour History in Song"...in Newfoundland and Labrador. | available |
| Oct. 19, 2019 | Ron Moores | Prof. Neil Rosenberg (Bluegrass: A History) and Crooked Stovepipe | available |
| Oct. 12, 2019 | Ron Moores | Featuring music from the bluegrass "supergroup" Longview...join us at noon! | available |
| Oct. 5, 2019 | Ron Moores | Rose Maddox and the Maddox Brothers | available |
Ron has a new poscast: Visit "Sounds Atlantic' - see link below...
Ron Moores' "Back 40" is a program of traditional country, western and bluegrass music broadcast every Saturday at noon on CKCU 93.1 FM in Ottawa, Ontario, Canada. In can also be heard on the Internet, in Real Audio, at www.ckcufm.com. Currently, it is the only program in Ottawa of its kind, and the only one that regularly features interviews with Bluegrass artists from across North America (see below).
One of over 100 programs broadcast 24 hours a day, seven days a week, the "Back 40" is celebrating 28 years this year. This April, Ron will be celebrating his 25th. year as the "Back 40" host. In November 2018, CKCU 93.1 FM Radio Carleton will celebrate "43 years in your ears" as the oldest campus-based community radio station in Canada, and a leader in community broadcasting.
"Back 40" began broadcasting in March, 1990 and was hosted by the "Back 40 Collective" of founder, the late Bill Grant, along with Doug Torrance and Dave deJongh. Joined in April 1993 by Ron Moores, the show eventually fell to Ron's care, when Doug and Dave headed for points west. Since taking over in late 1993, Ron has retained the original format of old-tyme, country, western and bluegrass music and added such new features as:
NEW SOUNDS ATLANTIC PODCAST
Search for our new podcast series, Sounds Atlantic, on any of your favourite Podcast sources.
Regular Features
There are regular features you can count on, such as:
The Easter and Christmas Gospel Shows
For lovers on Valentine's Day
Christmas in the Valley
Year in Review and Preview at year's end
Bluegrass Unlimited/Bluegrass Now: "Top 15 Bluegrass Albums" (quarterly)
New Releases and Discoveries, from local, regional, national and international artists.
Special Profiles and Features
Ron brings diverse programming and insight into what lay behind the scenes of country music and its artists. The Back 40 profiles artists who play the rich diversity of country music - from yesterday's "hillbilly" to today's "alternative" - music you won't find on commercial radio. You'll follow their careers and listen to the songs that made them famous. From the rollicking old-timey string band sounds of Charlie Poole and the North Carolina Ramblers during the 1920's and 30's, to the brash contemporary "alternative" country of Fred Eaglesmith - you'll hear a new artist or feature every week on the Back 40. And you can go back in time in Ron's time capsule to hear western swing music, honky-tonk, and bluegrass classics. And there's much more, as you'll see below. Tired of the monotony of today's commercial country music? Head for the Back 40 Saturday's at noon for a slice of 80 years of classic country music!
Interviews
Ron attends many summer music festivals and events in the CKCU listening area and further afield such as the Central Canada Blue Grass Awards in Huntsville, Ontario, and the International Blue Grass Music Awards in Louisville, Kentucky. He interviews established bands as well as up-and-coming new groups, both local and international. Artists also call in from across North America. These interviews are featured throughout the year, providing interesting insights into the people and inspirations behind the music.
Special Promotional Broadcasts
Every year, Ron previews a number of music festivals and special events throughout the Ottawa Valley. These include:
Palmer Rapids Twin Festivals (with promoter Al Schuut)
Ottawa Valley Country Music Hall of Fame
International Bluegrass Music Awards (IBMA) broadcast from Louisville Kentucky's Centre for the Performing Arts
Central Canada Bluegrass Awards from the Deerhurst Lodge in Huntsville, Ontario.
Guest Hosts
Ron needs the summer weekends to attend festivals and interview the performers. While he is away, many talented guest hosts fill in and bring listeners their unique flavour to the Back 40. These include CKCU FM Saturday morning hosts Ray Harris, Dick Alta Vista, Renny Godier , Tonya Price and Dale  Pinkerton.
There is always someone or something new each week on the Back 40; tune in, we'll be waitin' for you! And don't forget to check out the "Coming Shows" section of this site.


Ron Moores
Hall of Honour, Central Canada Bluegrass Awards 2010: DJ of the Year,
2005, 2006, 2007, 2008 and 2009
Winner, The David Tinkoff Award 2011
Link to Ron's website:www.ronmoores.com
Link to "Sounds Atlantic":

Subscribe to The Back 40