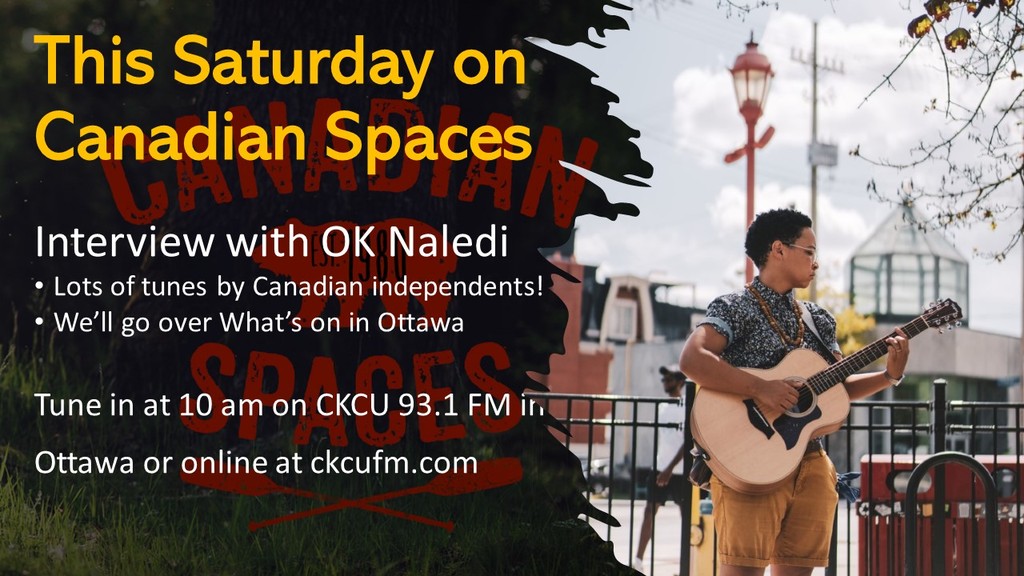 Canadian Spaces
Saturday February 11th, 2023 with Anne-Marie
Exploring all corners of the Canadian Folk music genre and celebrating Black History Month.
Interview with OK Naledi about her new album, Bones, and upcoming performance at the NAC Fourth Stage on March 4. As part of Black History Month, 15% of proceeds from Naledi's new single, Interlude, released on Feb 14 on Bandcamp will go to the Black Healing Fund.
Westbound
Jenny Berkel -

Second Wife
Olivia Dora -

The River
Mimi O'Bonsawin -

Wishing Kasia
Polky - Songs from home

Walking my baby back home
Antoine Collins - Nature Boy

Telephone
Andy Shauf - Norm - antirecords

The Future is Dead
Ken Yates - Cerulean

Never Love Another
Summersets -

Holding it together
Lynn Harrison -

Love Me The Same
Mike Edel - Casseroles and Flowers

Holding You
Kellylee Evans - Green LIght EP

Seeds
Julian Taylor - Beyond The Reservoir

Keep Going
OK Naledi - Bones

INtrlD (Interlude)
OK Naledi - Bones

Sparkle
Civil Wray -

Sparrow
Tara MacLean -

Dans l'Jus
Lisa Leblanc - Chiac Disco - Bonsound

Coffee
Fred Dell'Amico - Coffee, Trains and Donuts

Madame Faielle
Vanier Playboys -

Salt
Moonfruits - Salt

All This Time Coming
Craig Cardiff -

Rise Up
Twin Flames - Signal

Scapegoat
Rory Taillon - Drifting

Chip Song
Jive Wires -