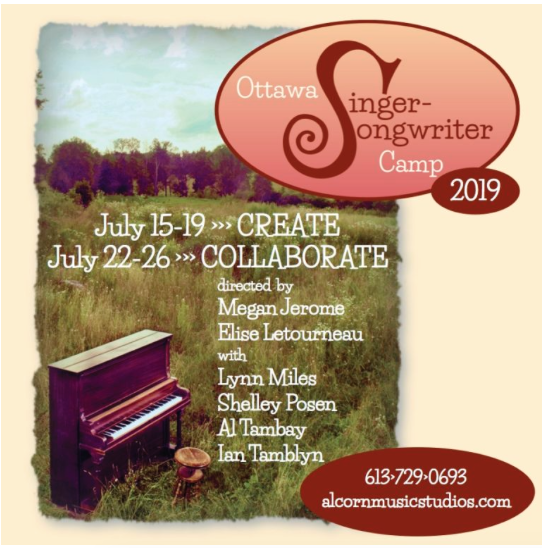 Canadian Spaces
Saturday March 16th, 2019 with Arthur McGregor and Chris White
Elise Letourneau and Megan Jerome (Ottawa Singer-Songwriter Camp), Doug MacArthur
Chris White marks the start of his seventh year as the host of Canadian Spaces. He took on the role after the show's founder, Chopper McKinnon, passed away on March 13, 2013. Arthur McGregor presents "40 minutes of uninterrupted folk" and performs some songs for the Space Cadets. Elise Letourneau and Megan Jerome visit the studio to perform live and talk about the fourth annual Ottawa Singer-Songwriter Camp. There are two sessions -- sign up for either or both: the "Create"session runs from July 15-19, and the "Collaborate" session runs from July 22-26. For information and to register, see
http://www.alcornmusicstudios.com/ottawa-singer-songwriter-camp
Doug MacArthur drops by to perform and play some tracks from his new album, "The Horses of the Sea". The album was inspired by his regular trips to Ireland, and is available as a free download at
http://www.dougimac.com
The Blackthorne Stick/Saddle the Pony
The McPeake Family - Bagpipes of Britain and Ireland
From the Rock
Eh? - Eh?

Daniel O'Connell
Tom Kines - An Irishman in North America

Donegal Hornpipe/Donegal Reel
Danny O'Connell - Green Fields of the Valley

Torn Screen Door
David Francey - Torn Screen Door

Canadee-i-o
Ellis Kennedy - Time to Sail
Farewell to Sligo
Brian Taheny and Loretto Reid - The Golden Dawn

Gaelic Envy
Nancy White - A Sampler from Borealis

What You Do with What You Got
Qristina and Quinn Bachand - Little Hinges

Dan and Betty
David Essig - Into the Lowering Sky

Summer to Winter
Bob Stark - Modern Day Romeo

Snow
Chris MacLean - Feet Be Still

The Right Thing
The Algonquin Ensemble - .

The Horses of the Sea
Doug MacArthur - The Horses of the Sea


Sleeping in Dublin
Doug MacArthur - The Horses of the Sea


Whiskey in the Jar
Doug MacArthur - The Horses of the Sea


In the Middle of the Blue
Elise Letourneau - live in the studio

Candles
Megan Jerome - live in the studio

The Homes of Donegal
Arthur McGregor - live in the studio

The Jolly Beggarman
Arthur McGregor - live in the studio

The Parting Glass
Arthur McGregor - live in the studio