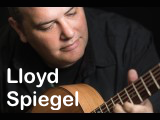 Canadian Spaces
Saturday September 9th, 2017 with Chris White
Ali McCormick, Lloyd Spiegel, Julie Corrigan, Lori Jean Hodge
* Ali McCormick talks about her concert coming up on Friday evening, September 15th at Live on Elgin, a show that also features Bobby Dove and Thomas Stajcer. * Lloyd Spiegel (from Australia) and Julie Corrigan and play at Batstone's Northern Ramble in Renfrew tomorrow evening -- Sunday, September 10th. They join us in the studio to chat and perform live. * Lori Jean's Hodge's birthday would have been on Sept. 4, but sadly we lost her last July. We play some songs in honour of her astounding voice and wonderful spirit. * We'll be broadcasting Canadian Spaces next Saturday "live on location" from the Black Irish Pub in Vanier to kick off the new season of Tunes After Noon!
Barcelona
Linda Morrison - Line By Line

The Gazebo on the Oswegatchie
Shelley Posen - Roseberry Road

That's When I Need a Song
Ken Whiteley - One World Dance

The Blacksmith
Lizzie Hoyt - New Lady on the Prairie

Charged
Cara Luft - Darlingford

I Used To Be Able To Yodel
Bob Snider - A Maze in Greys

Roll Me On Home
Ken Yates - Huntsville

My Bonny
Laura Smith - B'tween the Earth and My Soul

Get Back in the Game
Chris Ronald - Fragments

Good News
Coco Love Alcorn - Wonderland

The Last Time I Ever Said Goodbye
Greg Kelly - Ghosts

.
Ali McCormick - .

.
Lloyd Spiegel - live in the studio
.
Lloyd Spiegel - live in the studio
.
Julie Corrigan - live in the studio

.
Julie Corrigan - live in the studio

Prairie Train
Lori Jean Hodge - unreleased recording

I Miss You
Lori Jean Hodge - unreleased recording