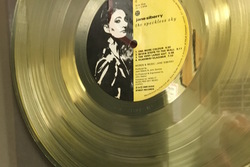 Canadian Spaces
Saturday February 13th, 2016 with Debbie Hanna and Chris White
Jane Siberry, Daphne Volante, Piara ÓGiobúin, Deirdre Dooley, Kongero, Marc Landry
Chopper's dear friend Debbie Hanna puts together her annual February Special Edition. She has lots of excellent music to share... all duos and duets! Jane Siberry calls in to talk about her album release tour for "Ulysses' Purse". She performs at the Gladstone Theatre on Monday evening, Feb. 15,
www.thegladstone.ca
. Daphne Volante, Piara ÓGiobúin and Deirdre Dooley drop by the studio to perform live and chat about their concert on Fri. Feb. 20 at Abbotsford House, 950 Bank St., 7:30 pm. Kongero, a 4-woman vocal group from Sweden, joins us by phone to talk about their upcoming performances in the National Capital area,
www.kongero.se
. Marc Landry, who has presented Kongero in house concerts in the past, drops by to celebrate their return visit to Canada.
Someone To Watch Over Me
Bec & Rusty - Tea for Two

Waltz of the Tennis Players
Fraser & Debolt - Fraser & Debolt

We Got a Love
Rick FInes & Suzie Vinnick - Nothing Halfway

Sad and Lonely Girl
Geoff Johnson and Liz Sterling - demo

La Merveille
Roxanne Potvin - The Way It Feels

More Often Than Not
Ian & Sylvia - Ian & Sylvia

Love Bug
Ball & Chain - Louisiana Love Bug

I Got You Covered
Blackie & the Rodeo Kings - Kings and Queens

Wilder Than Her
Fred Eaglesmith - Drive-In Movie

Goodbye
Lynn Miles - Fall for Beauty

Heart Like a Wheel
Kate & Anna McGarrigle - Fraser & Debolt

Tea For Two
Bec & Rusty - Tea for Two