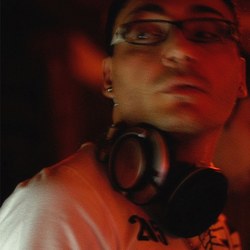 The Deep Blue
Saturday April 12th, 2014 with VH3
Guest Alex Raider (Kaleydo Records, Italy)
This week our guest is Alex Raider: Composer, Producer, Musician, and Label Manager of Kaleydo Records and Kaleydo Beats.
http://www.traxsource.com/artist/125652/alex-raider
Alex Raider was born in Rome (Italy),in July 1976.Grown under the sonorous influence of "The Dark Side of The Moon" and "Ummagumma" of Pink Floyd, at 9 years old, he started to play his father's guitar, a "12-String Eko Ranger", then he learned to play 5 instruments. Since 1993,he has published many releases on various labels, some successful such as "The Voyager" (2003), Summer 4 (Earth Wind and Fire remix 2004).The various pseudonyms used include: Undo/Redo, The Sound Alchemyst, Groove Sky, Indakob and many more. His name appeared alongside celebrities such as: - Amanda Lear (Brief Encounter Reloaded album 2010), - Boy George & Kinky Roland (Amanda Lear feat. Deadstar "Someone's Else Eyes" 2010) - Tina Charles ("Your Love Is My Light" 2012), - Santos (From Ciociaria With Dub EP 1 and 2), - Enrico BSJ Ferrari aka Black Legend (Rumba & Bumba, Mariblack, Discomonia, From Ciociaria With Dub 1 and 2,The Voyager) and many more. One of his albums ("Dreams Of A Poet"),is officially the soundtrack of the event "Massimo Trosi Prize" festival, 2009 edition. Thanks to a 360-degree music culture, and his twenty-years of experience, in 2013 he founded Kaleydo Records. Host VH3 provides the opening set and Alex Raider closes in hour 2.
HOUR 1

VH3
Wine And Cigarettes (Blake Sutherland's Sunday Morning Remix)
Booiamrudolf - Coloured In Rain - Agara Music

Epikur
David August - Epikur EP - Innervisions

Liberate
Eric Prydz - Liberate - Pryda Recordings

Guitar Man
Reset Robot - Let Your Soul Outside - Truesoul

My Jungle
Carlo Ruetz - My Jungle - Supdub

Atmosphere (Martin Patino Remix)
Greg Gow - Alien Music - Abstract Theory


Meko
Weska - Stick Miami 2014 - Stickrecordings


Clunk (Coyu's Remix)
Ramiro Lopez - Get Clunk EP - Waveform Recordings

Hung Up
DJ Infinet - Ascension - Kaleydo Beats


2 AM
MiniCoolBoyz - 2 AM / Rachel's Dream / Warm Step - Amazing

Only Live Once
DJ Tonio - Elastik EP - Definitive Recordings

That's It
Jay Lumen - No Money No Honey - Octopus
Searchin (Zoltan Kontes Remix)
Emeskay - Searchin - Vudu


HOUR 2

Alex Raider (Kaleydo Records, Kaleydo Beats, Italy)
Know My Name
Luke Caspi - Know My Name EP - Kaleydo Beats

What You Do
Alex Raider & Joe Lukketti - What You Do - Kaleydo

Yes I Did It (Christian Hornbostel Remix)
Lars Horton - Yes I Did It - Quadriga Recordings

Crook
Alex Raider - Parallel World EP - Kaleydo
Puma Punku (The Door Of The Puma Mix)
Alex Raider - Puma Punku - Kourai Khryseai
Other View
Alessandro Spaiani - In The Mirror EP - Italo Business

River
Agus O - River EP - Kaleydo Beats

Paradigma
Christian Hornbostel - Paradigma - Kaleydo Beats

Kiss My Groove (Tony Dee Remix)
De La Swing - Kiss My Groove - Amazing Lab
Dimension
Alessandro Spaiani - In The Mirror EP - Italo Business