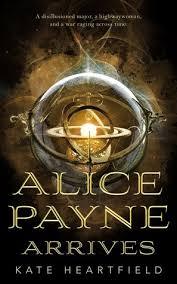 Literary Landscape
Thursday April 11th, 2019 with Kathryn Hunt
It's About Time; or, Kate Heartfield's two time-twisting Nebula noms
Ottawa writer Kate Heartfield has been busy this year. In May she'll be traveling to the Science Fiction Writers of America Nebula Convention, having been nominated for awards in both the Novella and the brand-new Game Writing categories, for Alice Payne Arrives (Tor) and The Road to Canterbury (Choice of Games). The two Kates sat down to talk about it.
Interview - Kate Heartfield on Alice Payne Arrives and The Road to Canterbury.