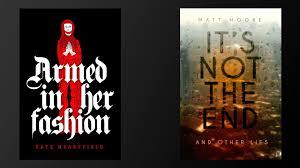 Literary Landscape
Thursday June 7th, 2018 with Kate Hunt
First books and squishy infernal realms
Kate Heartfield and Matt Moore are launching their debut books at the ChiZine Publications season reveal next week at Paddy Boland's - and they came to the studio to talk psychological worldbuilding, medium-size publishing, and the books they're already working on as the first ones are released. . .
No music: just interview.