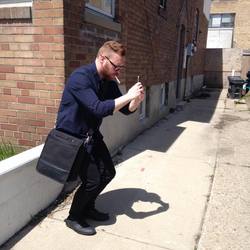 Literary Landscape
Thursday July 14th, 2016 with JM Francheteau
Toronto poet JC Bouchard on being and nothingness or something
JC Bouchard is one of Toronto's best-coifed poets, with recent work appearing in BookThug's BafterC, The Puritan, the Hart House Review and many more. He was also part of the 2015 Worst Case Ontario tour. Based for a time in Ottawa, JC will be doing a workshop and performance with the Sawdust Reading Series on July 20th.
There are no tracks in this playlist.