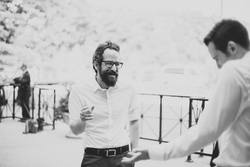 Literary Landscape
Thursday June 23rd, 2016 with JM Francheteau
Justin Million on starting a poetry community in the (relative) wilderness
Justin Million is a poet and former editor of Carleton's In/Words. He now lives in Peterborough and co-runs the Show & Tell Reading series, an innovative series that seeks to build a page poetry community where none exists. Hear Justin's thoughts on the agony and the ecstasy of working outside the light of the big cities.
There are no tracks in this playlist.