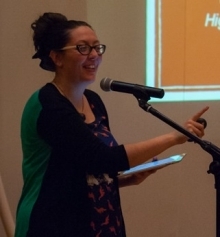 Literary Landscape
Thursday April 7th, 2016 with JM Francheteau
Video Game Scholar Emma Vossen
Emma Vossen is a PhD Candidate at The University of Waterloo currently writing a dissertation examining the accessibility of games and games culture to girls and women. She is the Editor-in-Chief of First Person Scholar and has published articles on games and games culture, The Walking Dead, Fifty Shades of Grey, and the fetish art of Superman's co-creator Joe Shuster. We'll be talking about her recent article in First Person Scholar, "Publish or Perish?", the concept of "Middle State" writing as well as sexuality and representation in gaming. Check out Emma's "Publish with Purpose" video as a preview:
https://www.youtube.com/watch?v=tsvxRM0V2KU
There are no tracks in this playlist.