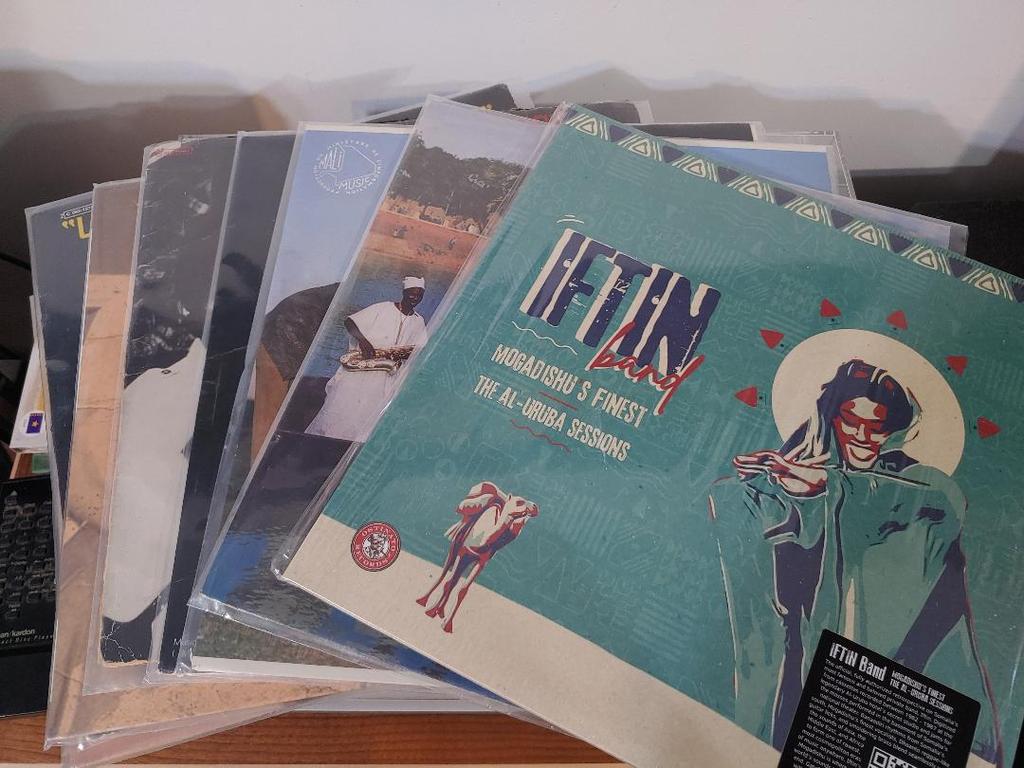 David Dalle
Thursday January 5th, 2023 with David Dalle
Africa on vinyl! Music from Somalia, Congo-Brazzaville, Mali, Gabon, Tanzania, South Africa and more. The Romantic Piano Concerto vol. 84.
Starting off the New Year with a stack of African vinyl which has been piling up, some new and recent, most older lps, and all absolutely superb. These include the brand new Ostinato release, a compilation of Somalia's Iftin Band, "Mogadishu's Finest: The Al​-​Uruba Sessions". The Iftin Band was a leading band in Mogadishu's active nightlife in the early 80's, operating mainly out of the most prestigious Hotel Al-Aruba. Their nightclub attracted a global clientele as pre-war Mogadishu was an important trading hub. This led the Iftin Band to experiment with their sound and absorb many international influences from American, Asian, and African sources, which were all fused with the Southern Somalian Banaadiri traditions. Fantastic brass, rhythm, guitars, and vocals. Female vocalists were leaders in the group. The band released many popular albums on cassettes and it is from these cassettes sourced from London, Djibouti, Mogadishu, Nairobi, and Dubai, that this first reissue of the Iftin Band was created. We will also hear from two 1970 lps with bands recorded at la 1ere Biennale Artistique Et Culturelle De La Jeunesse, a festival in Mali which showcased its incredibly rich culture. This festival was very influential throughout Africa and inspired many other African countries to imitate it. These two Malian groups, Orchestre Régional de Mopti and and Orchestre Régional de Kayes are *fantastic*! Another lp of note, a 2019 compilation of Tanzania's Salum Abdallah and his Cuban Marimba Band. Born in 1928, Salum Abdallah only ever cared about music, he spent all his money on Cuban 78's and built his own guitar. As a young man, he created the Cuban Marimba Band which became quite popular in Tanzania in the late 50's and early 60's, recording nearly 100 songs. Tragically, Salum Abdallah was killed in an automobile accident in 1965 when he was only 37. This 2019 compilation features tracks from 1961-1965 and is one of the only available records of this gifted musician.
Xiriirkaagii Aan kusoo Xarakeeyee
Iftin Band - Mogadishu's Finest: The Al-Aruba Sessions - Ostinato Records

Recital (Seku Amadou)
Orchestre Regional de Mopti - Les meilleurs Souvenirs de la 1ier Biennale artistique et culturelle de la Jeunesse (1970) - Mississippi Records
Sanjina
Orchesetre Regional de Kayes - Les meilleurs Souvenirs de la 1ier Biennale artistique et culturelle de la Jeunesse (1970) - Editions du Ministere de l'Information
Tire Ni Oluwa
Sonny Okosun - Liberation - Shanachie
Bin kpe
Anonymous - Sounds of West Africa: The Kora & The Xylophone - Lyrichord Discs
Chant épique du "Mvet"
Akwe Obiang - Gabon: Chantres du quotidien/Chantres de l'épopée - Ocora
Passy Mermans, Congolese guitarist and arranger, died on Dec 28th at 80 years old, he had played with several great bands starting in the early 60s including Les Bantous de la Capitale.
Ata Ko Poso Moko
Passy Mermans - Les Grands Succes Africans vol. 6 - Pathe Marconi
Nkosi Special
The Boyoyo Boys - TJ Today - Aural Tradition Records
Masikitiko
Salum Abdallah and Cuban Marimba Band - Ngoma Tanzania - Domino Sound
War Wayneey
Iftin Band - Mogadishu's Finest: The Al-Aruba Sessions - Ostinato Records

Aloys Schmitt (1788-1866) is a forgotten composer today, but he wrote thoroughly enjoyable music, as these premiere recordings of his two piano concertos show. His 2nd is strongly influenced by Beethoven, but shows some quirky individual gestures, such as the first movement, which starts with a theme full of Beethovenian fury but is contrasted quite unexpectedly by the 2nd theme in a form of a waltz.
Piano Concerto No. 2 in d minor Op. 34
Aloys Schmitt/Howard Shelley, Ulster Orchestra - The Romantic Piano Concerto vol. 84 - Hyperion