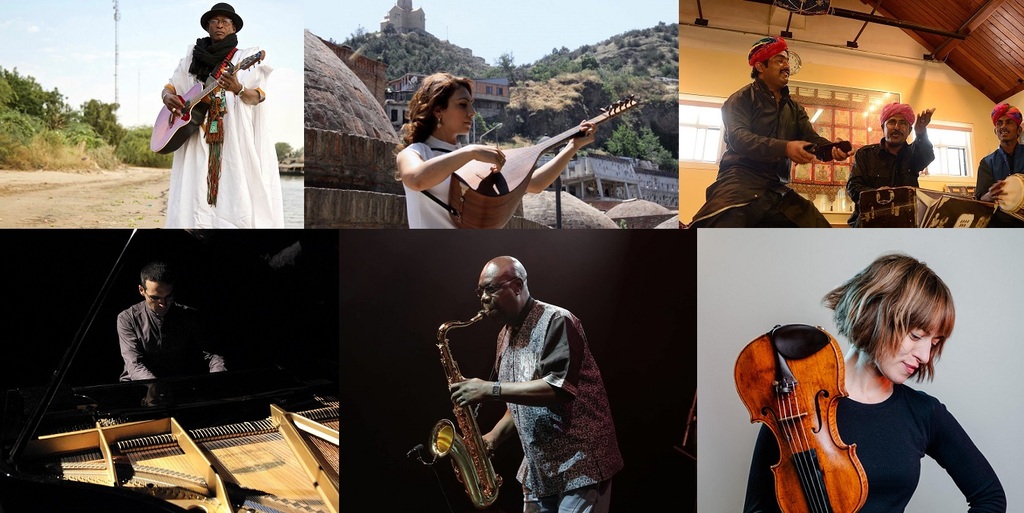 David Dalle
Thursday October 29th, 2020 with David Dalle
Funding Drive I: Favourite music from all over the world.
Funding drive funding drive FUNDING DRIVE! Keep CKCU on air for another year and on track towards 5 decades! There is no CKCU without you! My program has been airing on CKCU for 26 years, over half of CKCU's existence (and over half of mine)! My show is plainly titled "The David Dalle show", but there is nothing plain about the music I program from all over the world, from all over history. Music is universal and a fundamental part of being human, and I believe music is the very best of humanity. I strive to show the connections and the shared evolution between very different musical traditions--there are no pigeonholes or borders on my show. Media choice has grown enormously over the 26 years of my program, but despite this, almost all media has operated under a process of winnowing of choice. My program is a brilliant explosion of choice, share with me this weekly journey through the incredible wealth of music! We will hear a few of my favourites from all over the world as you click on the donate button!
Starting today with three very different versions of the very famous Mandé djeli song "Mali Sadio". The first is from Senegalese-Canadian kora player and singer Zal Sissokho from his wonderful new album "Kora Flamenca". The second is from the all-star recording "Mandekalou" featuring a large number of the greatest Mandé singers from Mali, here singing "Malisadio" are Kasse Mady Diabate, Kandia Kouyate, Kerfala Kante. The third is by another Senegalese singer, Moussa Niang who sings it in Wolof as a tribute to his late brother, and with a reminder by Toumani Diabate that "Mali Sadio doesn't just belong to Mali, it belongs to different peoples and places in West Africa".
Maliba
Zal Sissokho - Kora Flamenca - Analekta


Malissadio
Kasse Mady Diabate, Kandia Kouyate, Kerfala Kante - Mandekalou - Syllart
Tapha Niang
Toumani Diabate's Symmetric Orchestra - Boulevard de l'Independance - World Circuit/Nonesuch
I've had this in my show description for over a decade: "I believe that through examining the apparent differences found in music by highlighting the salient aspects of a piece or a tradition, it is possible to discover common threads which bind disparate cultures and traditions together. For example, discovering the similar effects achieved through different means by an unaccompanied violin sonata by Bach and a Baluchistani Sufi trance piece played on Sorud." We will hear these two pieces now. Both music for a solo bowed instrument (though the sorud is accompanied by the rhythmic tanburag lute) . Both religious or religious-inspired music. Both pieces move inexorably from a place of low tension to high tension. Bach does it with harmony and the polyphonic textures of the fugue. The Baluch sorud player by increasing tempo and shortening the ambitus of the melodies. The effect of both pieces is very similar. Yes I believe Bach was essentially a Sufi!
Sonata no. 2 in a minor BWV 1003: ii. Fuga
Johann Sebastien Bach/Itchak Perlman - Sonatas and Partitas - EMI Classics
(it has a terrible title, but that is irrelevant to the music)
Suite of Damali Pieces
Ramazan - Mystic Fiddle of the Proto-Gypsies - Shanachie
Members of the Kamkars family of musicians have been an essential part of Persian music for at least four decades. Many of the Persian recordings I have played including recent recordings by Mohammad Reza Shajarian feature several members of the Kamkars. They are quite ubiquitous! Of course, they are truly wonderful when they play and record together as a family.
Khosha Hawraman
The Kamkars - Nightingale With A Broken Wing - Womad
The daf is my favourite frame drum, the sheer power, density, and volume of the sound it can create is awesome. This is a single daf played by master percussionist Madjid Khaladj in a Sufi rhythm which starts in 2/4 time and progresses to 6/16. Breathtaking!
La Ilaha Ill'Allah
Madjid Khaladj - Anthologie des rhythmes Iraniens vol. 2 - Buda
This is the first time in 26 years I have not down a CKCU funding drive show live, so it is very strange, I can't see the (many, many I hope!) donations (flood in!)... I will be optimistic and assume our generous listeners have met the call! So here is pure joy in music form with the New Orleans Klezmer Allstars!
Mazel Tov Cocktail
New Orleans Klezmer Allstars - Manichalfwitz - Gert Town
Lailadance
David Buchbinder - Odessa/Havana - Tzadik

Elita
Girma Yifrashewa - Love & Peace - Unseen Worlds
Sethed seketal
Getatchew Mekuria with the Ex - Moa Anbessa - Terp Records
Some heartbreaking news in an already terrible year for music, Keith Jarrett has just recently announced that his incredible career as a groundbreaking pianist is over, as he has suffered paralysis in half of his body since suffering a stroke in 2018. His recordings from his final tour have just been recently released on ECM and we will be hearing them on later shows. Today we hear a wonderful moment from his 2006 concert in the Gran Teatro La Fenice in Venice.
https://www.nytimes.com/2020/10/21/arts/music/keith-jarrett-piano.html
La Fenice Part III
Keith Jarrett - La Fenice - ECM
We conclude what I sincerely hope has been an extremely successful funding drive show with an irresistible song with the co-founder of of Mali's seminal Rail Band, trumpeter Tidiani Kone, playing with Benin's magnificent Orchestre Poly-Rythmo! The brass, oh my God the brass!
Djanfa Magni
Tidiani Kone & Orchestre Poly-Rythmo - African Scream Contest - Analog Africa