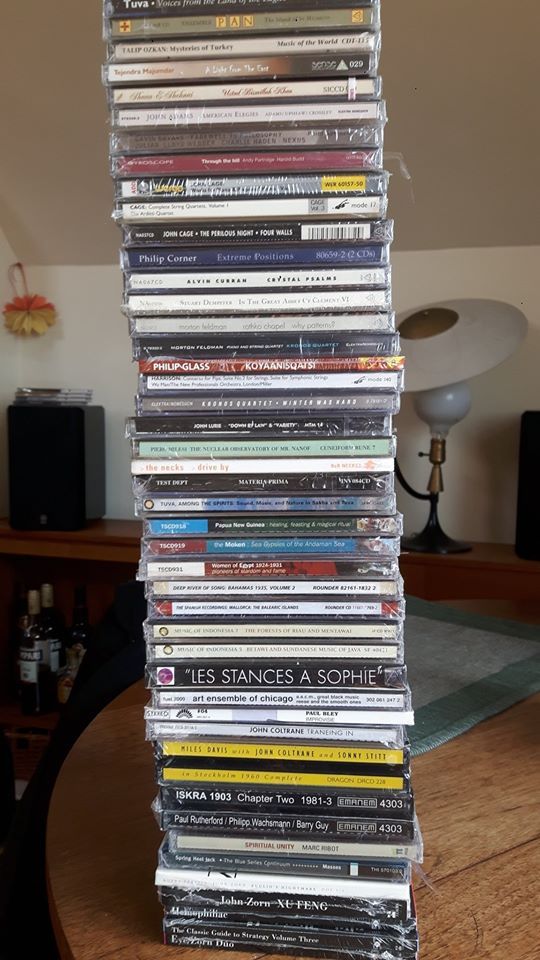 David Dalle
Thursday April 30th, 2020 with David Dalle
A guest playlist by Tony Daye; Shehnai Jugalbandi with Ustad Bismillah Khan & Bageshwari Qamar and more
This week I am starting with a special feature which will pop up occasionally during this pandemic, a guest set from CKCU's longtime alumni Tony Daye. Tony volunteered at CKCU from ~1984-2009. He hosted many different programs and was the founder of the Sunday afternoon show he later named This Island Earth. He introduced so much new music to both me and Ottawa with one of the largest and most diverse music collections. Tony provided me a set he created from older titles in his library, and he will provide a set with newer music on a future show.
Tony's set.
Contre Dolour
Ensemble Project Ars Nova - The Island of St. Hylarion - New Albion
Concerto for pipa and strings iii. Threnody for Richard Locke
Lou Harrison/Wu Man, Chicago Symphony Orchestra, Miguel Harth-Bedoya - Traditions and Transformations - CSO Resound
Concerto for pipa and strings iv. Estampies
Lou Harrison/Wu Man, Chicago Symphony Orchestra, Miguel Harth-Bedoya - Traditions and Transformations - CSO Resound
Sema
Talip Ozkan - Mysteries of Turkey - Music of the World
Misra Mand
Tejendra Majumbar - A Light From The East - Sense World Music
Gondang Haro-Haro
Gondang Sabangunan - Music of Nias & North Sumatra - Smithsonian Folkways
Kalam Fi Sirrak
Nabawiyyah Ghazal - Women of Egypt 1924-1931 - Topic
Khomushka Ayalgalar
Kongar Ondar - Tuva Voices From the Land of the Eagles - Pan Records
Roll, Roll, Roll and Go
Irene McQueen - Grenada Creole and Yoruba Voices - Rounder
Eliza Kongo
Sonia Carbon and Group - Dominica Creole Crossroads - Rounder
Listening to Tony's set, it made me miss both double-reeded pipes and Hindustani music, so time for some Shehnai. We will hear the great master Ustad Bismillah Khan, but in a special recording, a Jugalbandi with Bageshwari Qamar. She is a remarkable woman, as the shehnai in particular is a virtually male-only instrument. She is from a multi-generational family of male musicians and her father was a shehnai player and student of Bismillah Khan, she grew up surrounded by its sounds and as a small child she asked her father if she could play. He refused as she was a girl, but she started learning in secret listening in as he taught students and her mother was a confidant and she would practice at her grandmother's home. A couple of years later, her father stumbled onto her playing, and was shocked by her ability, he immediately began teaching her and brought her to Bismillah Khan who took her as a student. The Jugalbandi we will hear was recorded in 1994 when Bageshwari Qamar was 24. Bismillah Khan specifically chose to perform and record duets with her to demonstrate what a talented and capable shehnai player she was and to silence critics who thought a woman could not play the shehnai.
Raag Todi
Ustad Bismillah Khan, Bageshwari Qamar, Nazim Hussain, Nayyar Hussain, Mumtaz Hussain, Nanhe Hussain, Basharat Hussain - Shehnai Jugalbandi - Tips
Birthright (feat. Zia Ahmed, Mirande & Swadesi)
Sarathy Korwar - Birthright - The Leaf Label

Ngalam
Orchestra Baobab - Pirate's Choice - World Circuit/Nonesuch
The new album "Rejoice" by Tony Allen & Hugh Masekela has been popping up a lot on my recent shows, it is spectacular and seems to fit in really well with whatever I am playing. Also, on Tuesday Nick Gold of World Circuit hosted a live listening party on Facebook with Tony Allen and Hugh Masekela's nephew and spokesperson Mabusha Masekela. They spoke at length about the recording and the music while listening to the album. You can still enjoy this listening party here:
https://www.facebook.com/watch/live/?v=2953413411404540&ref=watch_permalink
Obama Shuffle Strut Blues
Tony Allen & Hugh Masekela - Rejoice - World Circuit

Kajri
Ustad Bismillah Khan - Shaadi Ki Shehnaiyan - EMI