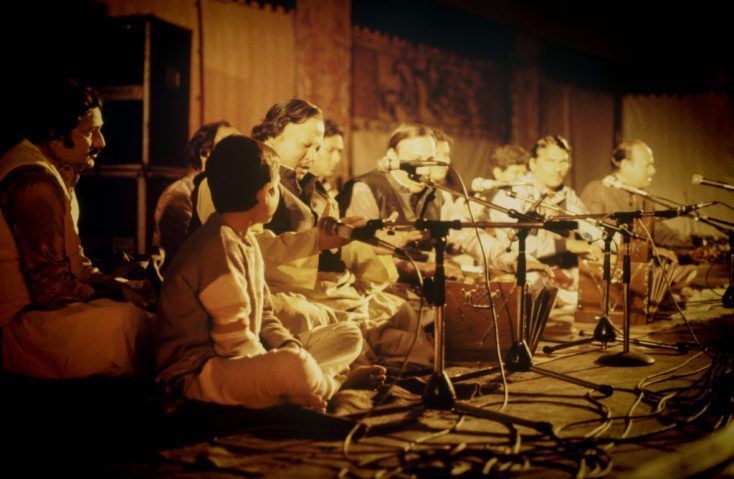 David Dalle
Thursday September 26th, 2019 with David Dalle
The legendary 1985 WOMAD concert by Nusrat Fateh Ali Khan, never released until now.
A very special treat today. In celebration of its 30 years, Peter Gabriel's Realworld record has released for the first time, Nusrat Fateh Ali Khan's legendary 1985 concert at the WOMAD festival in July at Mersea Island, Essex. This was not Nusrat's first appearance in the UK as by then he had already been to the UK many times, starting in the early 80's in tours sponsored by Muhammad Ayub of Oriental Star Records. e.g. We heard a lengthy live performance from 1983 in Birmingham in August as part of my annual Nusrat memorial show (
https://cod.ckcufm.com/programs/105/44318.html
). However, those tours were mostly attended by and promoted within the South Asian diaspora. His WOMAD concert was the first concert introducing him to a large, non-South Asian audience, most of whom were hearing him for the first time. From all accounts, the audience was (not surprisingly) completely blown away. This launched him to the international stardom of the last decade of his life. This concert was recorded by Peter Gabriel's production company and though he founded Realworld records a few years later in 1989, a recording of this concert was never released, until now. It is not the complete concert, but a large chunk containing thrilling performances of some of his greatest pieces: Allah-hu, Haq Ali Ali, Shahbaaz Qalandar. One rare feature, the performances featured solos by his then 10 year old nephew and chosen successor Rahat Fateh Ali Khan as well as a couple duets between Rahat and Nusrat. Rahat had been Nusrat's student since the age of 7 and sang often with the group, but this is the only recording I have heard with solos by Rahat at such a tender age. You cannot miss it as he is the only boy soprano voice in the group! The absolute ecstatic joy that Nusrat gives is inexhaustible!
Allah-hu
Ustad Nusrat Fateh Ali Khan & Party - Live at WOMAD 1985 - Realworld

Haq Ali Ali
Ustad Nusrat Fateh Ali Khan & Party - Live at WOMAD 1985 - Realworld

Shahbaaz Qalandar
Ustad Nusrat Fateh Ali Khan & Party - Live at WOMAD 1985 - Realworld

City of Words (feat. Trap Poju & Mirande)
Sarathy Korwar - More Arriving - The Leaf Label
Rag Waa Nacab Iyo Nasteexo
Aamina Camaari - Sweet As Broken Dates: Lost Somali Tapes from the Horn of Africa - Ostinato Records
Dudyaya
Diefadima Kante - Frankonodou - Frikyiwa
Djonol
Sourakata Koite - en hollande - Awesome Tapes From Africa
Nimato
Habib Koite - Foly! Live Around the World - World Village
Goold Ol'Vilayati
Sarathy Korwar - More Arriving - The Leaf Label
Maqui
Blick Bassy - 1958 - No Format

A Misturada
Os Muiraquitans - Jambu e os miticos sons da amazonia - Analog Africa