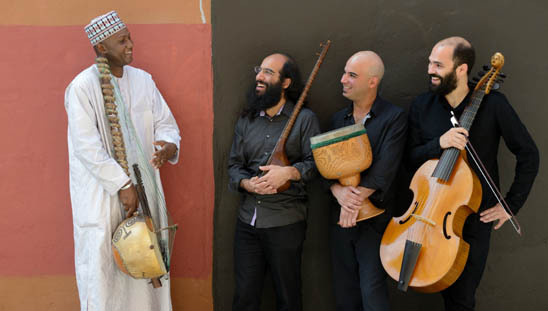 David Dalle
Thursday October 18th, 2018 with David Dalle
In the Footsteps of the Griot, Senegalese, Persian, Yemeni, Kurdish musics and more
Music & Beyond will be welcoming back the bold musical pairing of Constantinople and Ablaye Cissoko, "In the Footsteps of the Griot" on November 16th at the Horticulture building at Landsowne Park. I still recall their first appearance in Ottawa in 2013, they had just started their collaboration, and the extremely unlikely mix of Persian and Mande music was surprising and intoxicating. It is wonderful to see such an unusual pairing mature and grown in depth. We will start with their collaboration and follow with music from Senegal, Kurdish music from Turkey and Iran, and Yemeni music.
https://musicandbeyond.ca/event/in-the-footsteps-of-the-griot-sur-les-traces-du-griot/
Ahouye Vahshi
Constantiinople & Ablaye Cissoko - Itinerant Gardens - Ma Case

Soutouro
Constantiinople & Ablaye Cissoko - Itinerant Gardens - Ma Case

Rose
Ablaye Cissoko - Diam - Ma Case
Rose
Batch Gueye - Ndiargne - Independent
Modou Bamba
Sokhna Khady Ba - Baye Fall - Maestro Music
Kamanche Solo/A Yellow Flower
Shahriyar Jamshidi, Farbod Yadollahi, Kaveh Baban - A Yellow Flower - Ravi Music
Rinde
Ozan Aksoy - Ozan - Ozan Aksoy Music

Larzan
The Kamkars - Nightingale With A Broken Wing - Realworld
Unknown
Odisho - Unknown
Qawma-Ferash/Das'a "Farrij al-hamm ya kashif al-ghamm"/Wasta "Wa man tamallak fuadi"/Sari
Hasan Al-Ajami, Mohammed Al-Khamisi - Yemen: Le chant de Sanaa - Ocora
The Royal Winnipeg Ballet will be in town at the NAC in November, and what really interests me is they are dancing to Monteverdi's "Vespers -della Beata Virginie". This was Monteverdi's largest scale sacred work, incredibly ambitious and virtuosic and gorgeous. The NAC Orchestra joined by the choir and soloists of the Studio de musique ancienne de Montréal will be accompanying with the complete Vespers. This is an extremely rare piece to hear live in its entirety in Ottawa! And to choreograph dance to it? It would be like choreographing dance to Bach's Mass in b minor. Fascinating! Playing Nov. 1-3
https://nac-cna.ca/en/event/18651

Obviously we do not have time to hear the whole piece, but we will hear the Magnificat which concludes the Vespers.
Magnificat
Claudio Monteverdi/Sandra Simon, Jennifer Ellis, John Buffett, Margaret Bragle, Gareth Morrell, Ian Honeyman, Robert Psurny, Jeffrey Strauss, Michael McMurray, Apollo's Fire, Jeannette Sorrell - Monteverdi Vespro della Beata Virginie - Electra