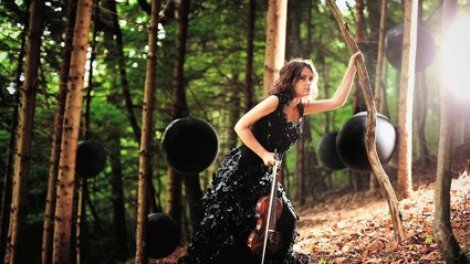 David Dalle
Thursday December 22nd, 2016 with David Dalle
My annual program for the winter solstice, a musical journey from darkness to light. This year the darkness comes from a radical and unique performance of Schubert's Death and the Maiden.
During the darkest time of the year, humanity have always cried out from the darkness, in hope, in joy, in the celebration of family, friends and community. Music is central to this and we take a journey from darkness to light through music. The darkness this year is brought by a radical concert recording of Schubert's 1824 String Quartet in d minor, known as "Death and the Maiden" as it uses the theme from his 1817 song of the same name as the basis of variations in the 2nd movment and the theme of death is central to the entire piece. The young Schubert was very ill when he composed this quartet and he was aware that it would be fatal (as it was 4 years later). The song features two verses, one sung by the maiden and one by Death. Death acts as a consoling, bringer of peaceful rest, within the centuries old European artistic tradition of the personification of Death which rose after the calamity of the great plague in the 14th century. The Maiden: Pass me by! Oh, pass me by! Go, fierce man of bones! I am still young! Go, rather, And do not touch me. And do not touch me. Death: Give me your hand, you beautiful and tender form! I am a friend, and come not to punish. Be of good cheer! I am not fierce, Softly shall you sleep in my arms! This concert features a transcription for string orchestra by Moldavian violinist Patricia Kopatchinskaja. This is not the first time this quartet has been orchestrated, Mahler also prepared a transcription for string orchestra, and I believe this piece, one of my favourites, does actually work better as a symphonic poem than a string quartet. What makes this recording radical is not any modification to the Schubert piece, (aside from the transcription), but the presentation and context. Kopatchinsjaka breaks up the 4 movements and inserts other pieces on the nature of death preceding and in between the 4 movements of the quartet. By Renaissance composers Augustus Normiger, John Dowland, Carlo Gesualdo, as well as contemporary composer Gyorgy Kurtag. These pieces expand, reflect and comment upon the Schubert. This approach to programming classical music is bold, imaginative, and simply not done. I wish more music directors and artists would be daring like this.
Toden Tanz from Tabulaturbuch auff dem instrumente
Augustus Normiger/Patricia Kopatchinskaja, The Saint Paul Chamber Orchestra - Death and the Maiden - Alpha-Classics

Byzantine chant on Psalm 140
Anonymous/Patricia Kopatchinskaja, The Saint Paul Chamber Orchestra - Death and the Maiden - Alpha-Classics

Quartet in d minor D810 i. Allegro
Franz Schubert arr. Patricia Kopatchinskaja/Patricia Kopatchinskaja, The Saint Paul Chamber Orchestra - Death and the Maiden - Alpha-Classics

Seaven Teares for String Quintet
John Dowland/Patricia Kopatchinskaja, The Saint Paul Chamber Orchestra - Death and the Maiden - Alpha-Classics

Quartet in d minor D810 ii. Andante Con Moto
Franz Schubert arr. Patricia Kopatchinskaja/Patricia Kopatchinskaja, The Saint Paul Chamber Orchestra - Death and the Maiden - Alpha-Classics

Madrigal
Carlo Gesualdo/Patricia Kopatchinskaja, The Saint Paul Chamber Orchestra - Death and the Maiden - Alpha-Classics

Quartet in d minor D810 iii. Scherzo. Allegro Molto
Franz Schubert arr. Patricia Kopatchinskaja/Patricia Kopatchinskaja, The Saint Paul Chamber Orchestra - Death and the Maiden - Alpha-Classics

Ligatura-Message to Frances-Maria (The Answered Unanswered Question)
Gyorgy Kurtag/Patricia Kopatchinskaja, The Saint Paul Chamber Orchestra - Death and the Maiden - Alpha-Classics

'Restless' from Kafka Fragments
Gyorgy Kurtag/Patricia Kopatchinskaja, The Saint Paul Chamber Orchestra - Death and the Maiden - Alpha-Classics

Quartet in d minor D810 iv. Presto
Franz Schubert arr. Patricia Kopatchinskaja/Patricia Kopatchinskaja, The Saint Paul Chamber Orchestra - Death and the Maiden - Alpha-Classics

Cucuritza
Fanfare Ciocarlia - Onwards to Mars! - Asphalt Tango
Trenul, masina mica
Fanfare Ciocarlia - Onwards to Mars! - Asphalt Tango
El Corazon Yo Te Dare
The Gypsy Cuban Project - Havana Night Sessions at Abdala Studios - Universal Music Romania

Compote
The Maxwell Street Klezmer Band - You Should Be So Lucky! - Shanachie
Burning
Yom - The Empire of Love - Planetes Rouge/Jazz Village
Banno
Dhoad Gypsies of Rajasthan - Gypsies of Rajasthan - World Village
Mpembe
Regis Gizavo - Mikea - Shanachie
Helele Mama Afrika
Black Umfolosi - Umdlalo - World Circuit
Bon Samaritain
Papa Noel - Bel Ami - Stern's
Mazel Tov Cocktail
New Orleans Klezmer All-Stars - Manichalfwitz - Gert Town
Kantate BWV 50 Nun ist das Heil und die Kraft
Johann Sebastian Bach/Monteverdi Choir, English Baroque Soloists, John Eliot Gardiner - Motets - Erato