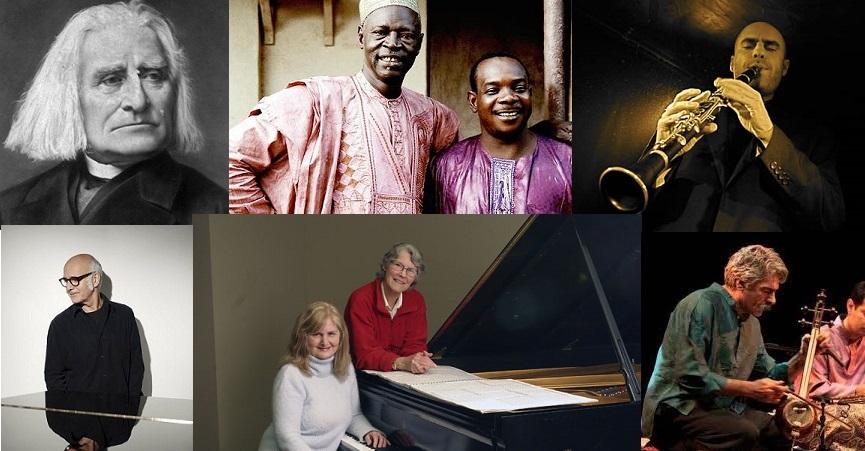 David Dalle
Thursday November 3rd, 2016 with David Dalle
Funding drive! An epic recap of 22 years on-air part II: a choice album for every year 2002-2016.
Trying to distill the essence of my program's 22 years on-air here at CKCU in 2 shows, selecting an album to highlight every year from 1994-2016. On part II we are looking at years 2002-2016, it will be tough to fit in 14 albums, but the second week of funding drive always has more pressure! So this fits in quite well. To stay on air my program needs a lot more support from listeners in this final week! Dial-and-donate or navigate-and-click on our website!
2002 - Starting with the premiere Gypsy brass band from Serbia with a stunning live recording. "Mesecina" was made immensely popular by the 1995 film "Underground" and has become a barn-storming tavern hit in Serbia and the Balkans.
Mesecina
Boban Markovic Orkestar - Live in Belgrade - Piranha
2003 - Kekele was a supergroup made up of 5 superb singers from the Congo who have all worked for decades in various bands. They specialize in Rumba Congo and this album is so sweet and joyous.
Oyebi Bien
Kekele - Congo Life - Stern's
2004 - Mory Kante is a Guinean singer who shared lead singing with Salif Keita in the Rail Band during the 70's. This all-acoustic album form 2004 proved he still had the chops.
Kenkan
Mory Kante - Sabou - Riverboat Records/World Music Network
2005 - SambaSunda is a group of Sundanese musicians from Indonesia who mix many traditional instruments together into a suberb and unqiue new style.
Kahayang
SambaSunda - Rahwana's Cry - Network
Bubuka
SambaSunda - Rahwana's Cry - Network
2006 - I had at many albums from Toumani Diabate pulled out when I was choosing favourites from the last 22 years, and this one was a very easy choice. His big band he plays with in a club in Bamako. The Kora is a very intimate, quiet instrument, but it works fabulously well with a big band!
Toumani
Toumani Diabate's Symmetric Orchestra - Boulevard de l'independance - World Circuit/Nonesuch
2007 - Staying in Mali but very different music, with the Touareg band Tinariwen and this superb release. This song is simply one of my favourite songs ever.
Matadjem Yinmixan
Tinariwen - Aman Iman - Outside
2008 - A wonderful compilation of the great Congolese musician Franco on Stern's. Every song is a gem.
Mambu ma miondo
Franco & le tpok Jazz - Francophonic vol. 1 - Stern's
2009 - Keith Jarrett is one of my favourite pianists, and his live solo improvisations have become a cornerstone of my musical universe. This 3-CD album featured a concert from London and Paris.
London Part X
Keith Jarrett - Paris/London - ECm
2010 - This is certainly one of the great masterpieces of the 21st century, commissioned in 2000 for the Bach anniversary (250th anniversary of his death), the St. Mark Passion which mixes classical orchestra, choir with Latin-American musicians and singers. Influenced primarily by Cuban and Brazilian music, and Bach of course.
La Pasion Segun San Marcos: 34 - Kaddish
Osvaldo Golijov/Biella Da Costa, Jessica Rivera, Reynaldo Gonzalez-Fernandez, Gioconda Cabrera, Manolo Mairena, Alex Alvear, Schola Cantorum de Venezuela, Orquesta La Pasion, Members of the Simon Bolivar Youth Orchestra of Venezuela, Maria Guinand - La Pasion Segun San Marcos - Deutsche Grammophon
2011 - The bicentennial of Franz Liszt, my musical hero, not only as one of the greatest 19th century composers and composers for piano, but also easily the most open-minded and generous musical figures of the 19th century. We hear the final (so far!) release in Hyperion's exhaustive 100cd survey of the complete solo piano music of Liszt with pianist Leslie Howard.
Magnificat
Franz Liszt/Leslie Howard - New Discoveries vol. 4 - Hyperion
2012 - Some piano music closer to home, with Canadian composer Constantine Caravassilis and his gorgeous Visions: Book of Rhapsodies and Book of Fantasias.
Soul Ascending
Constantine Caravassilis/Christina Petrowska Quilico - Visions - Canadian Music Centre

2013 - Kayhan Kalhor & Erdal Erzincan, two great masters on their respective stringed instruments in a live recording. Profound and masterful!
Improvisation V
Kayhan Kalhor & Erdal Erzincan - Kula Kulluk Yakisir Mi - ECM
2014 - French clarinetist Yom composed this instrumental quartet to commune with the founding myth of the Jewish people. Originally commissioned for a stage at the Isle de France festival in Paris; it was written for the unusual combination of clarinet, cello, doublebass, and Iranian percussion (zarb, daf, bendir) and performed by Yom, Farid D, Claude Tchamitchian, Bijan Chemirani respectively. It is a work of searing Biblical intensity and haunting beauty. Magnificent!
Le Silence de l'Exode 1 - Ramses
Yom - Le silence de l'Exode - Buda musique
We ran out of time! Never enough time for all the music! We will hear my selections from 2015 and 2016 next week! Thank you everyone for your support! It has been a record year for my program!